~Classy, cuddly & good-natured Chihuahuas ~
AKC-  all my Chihuahuas are registered with AKC
All the furbabies wish you a Merry Christmas!!
 Everyone loves to "dogpile"!!      
Sharlette with a pile of Chihuahuas! 
   It's true…..it's hard to have just one 🙂  

Sunbathing is a perfect time to snap a picture when everyone is still !
Cammi & Sterling have 3 adorable girls born Oct. 9    These babies will be ready for Christmas!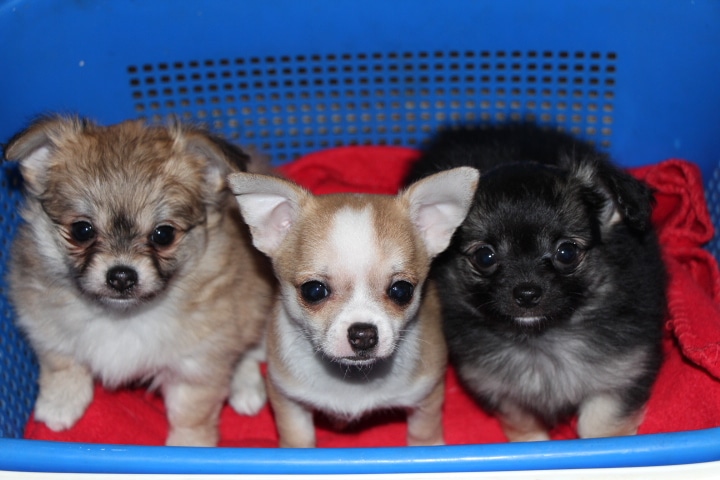 Camille, Cuddles & Candi   $1200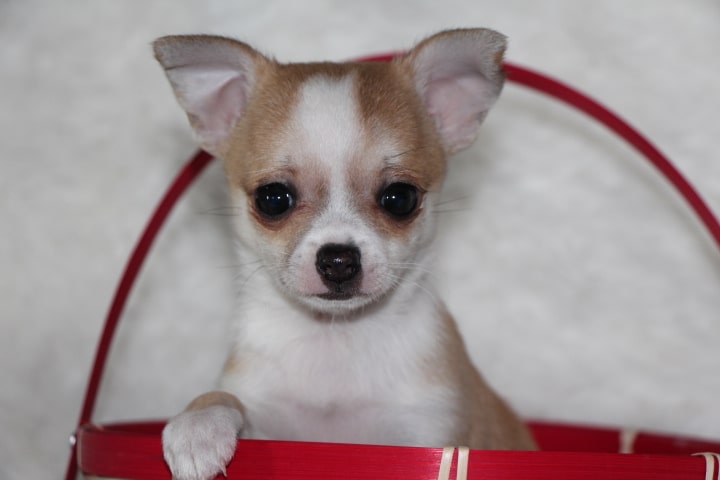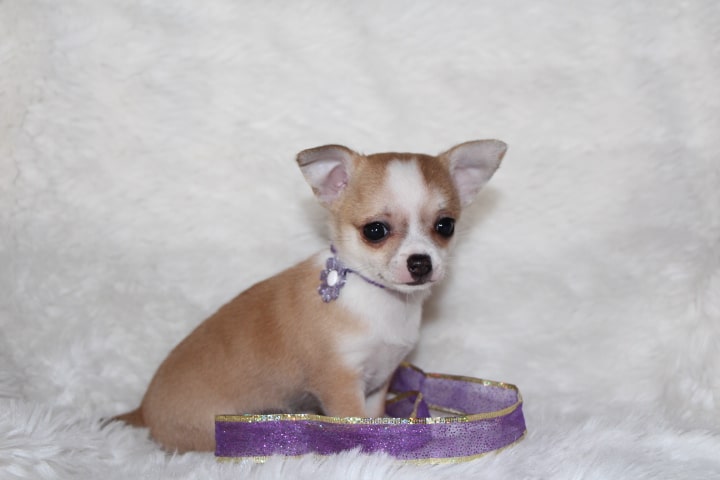 Hi, I'm Cuddles!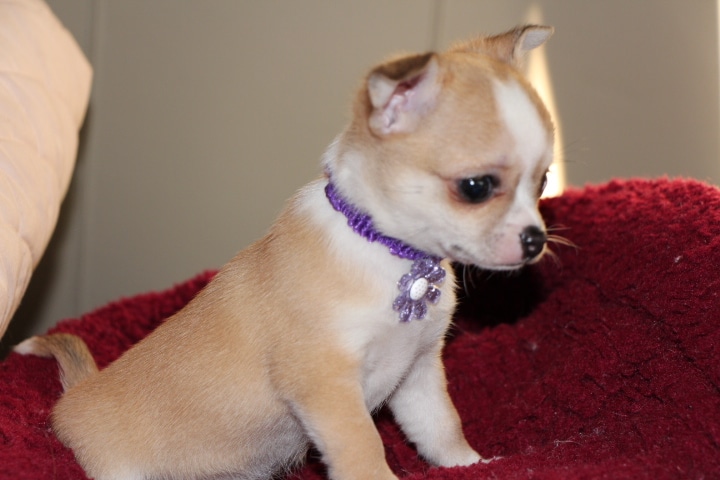 AVAILABLE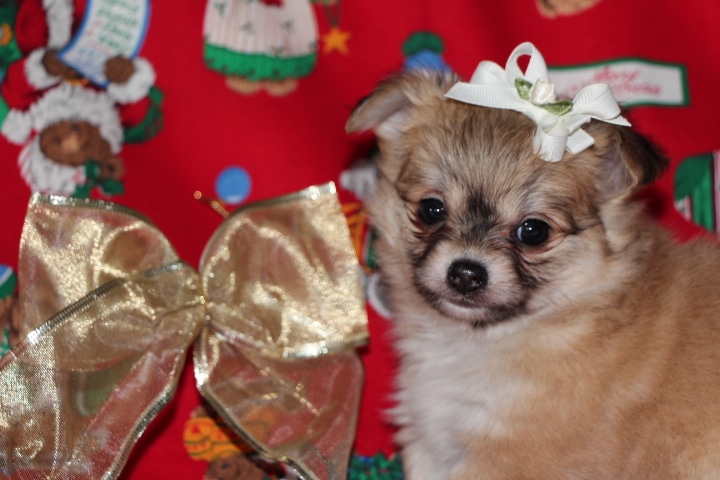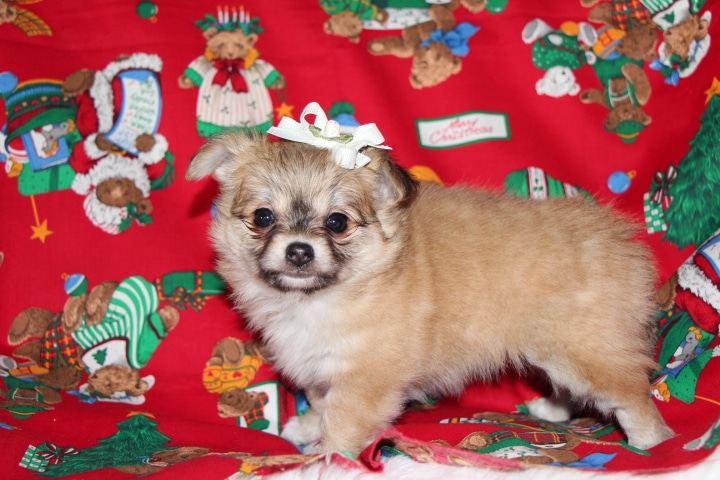 I'm Camille (ON HOLD)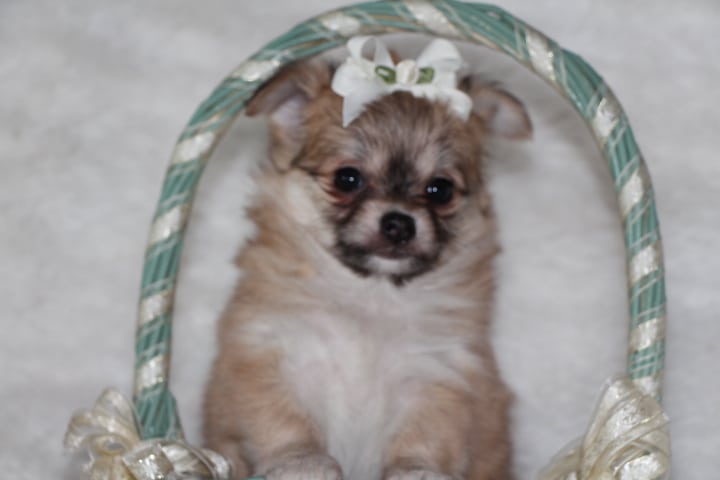 On HOLD FOR NGHIA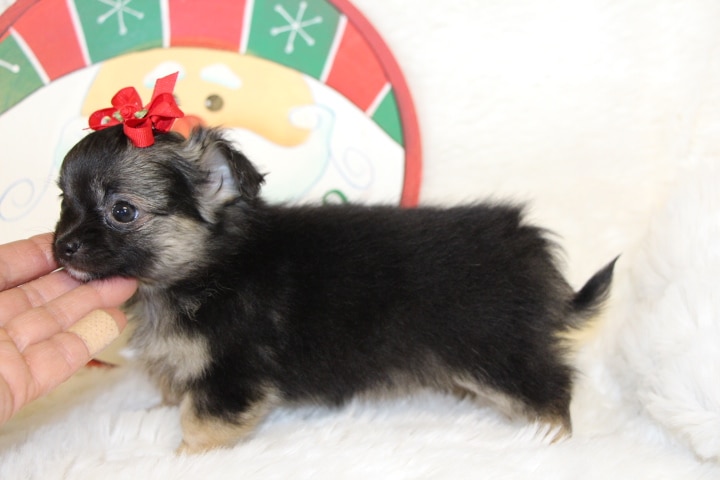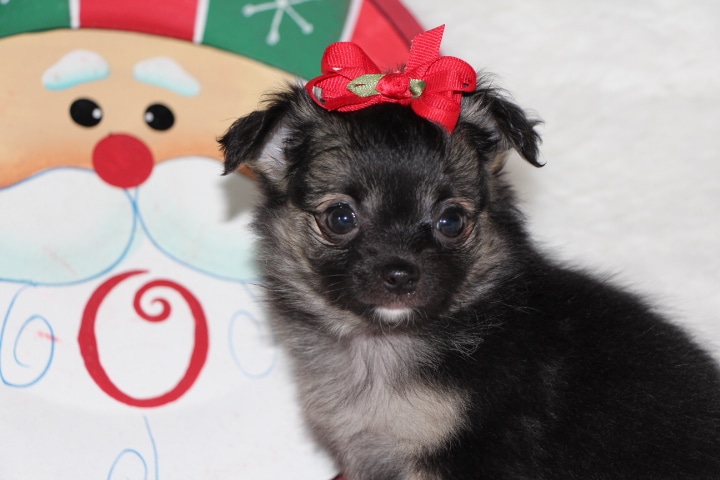 I'm Candi…sweet as can be!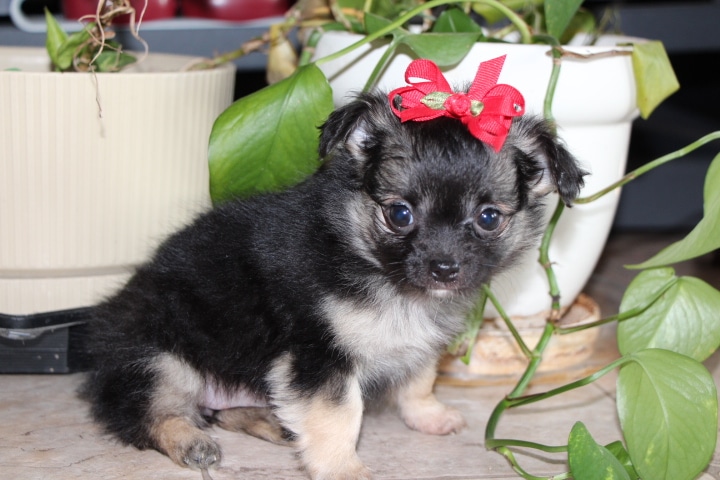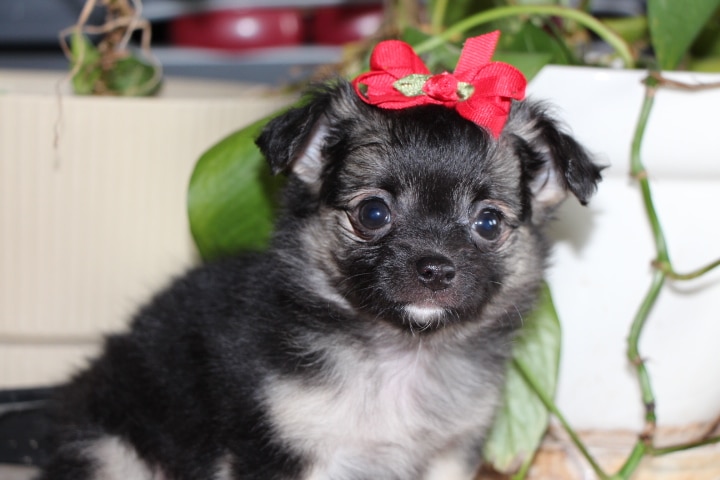 AVAILBLE
Dam, Cammi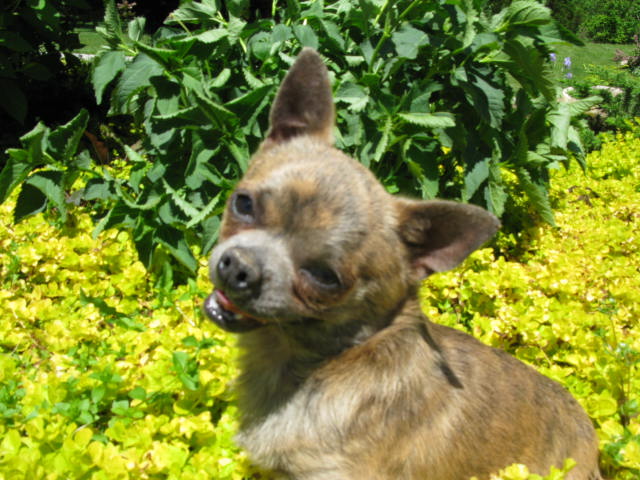 Sire, Sterling
Amelia & Suede had their babies on Thanksgiving Day!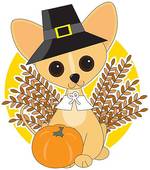 Three boys and one girl (Girl is chocolate-red fawn)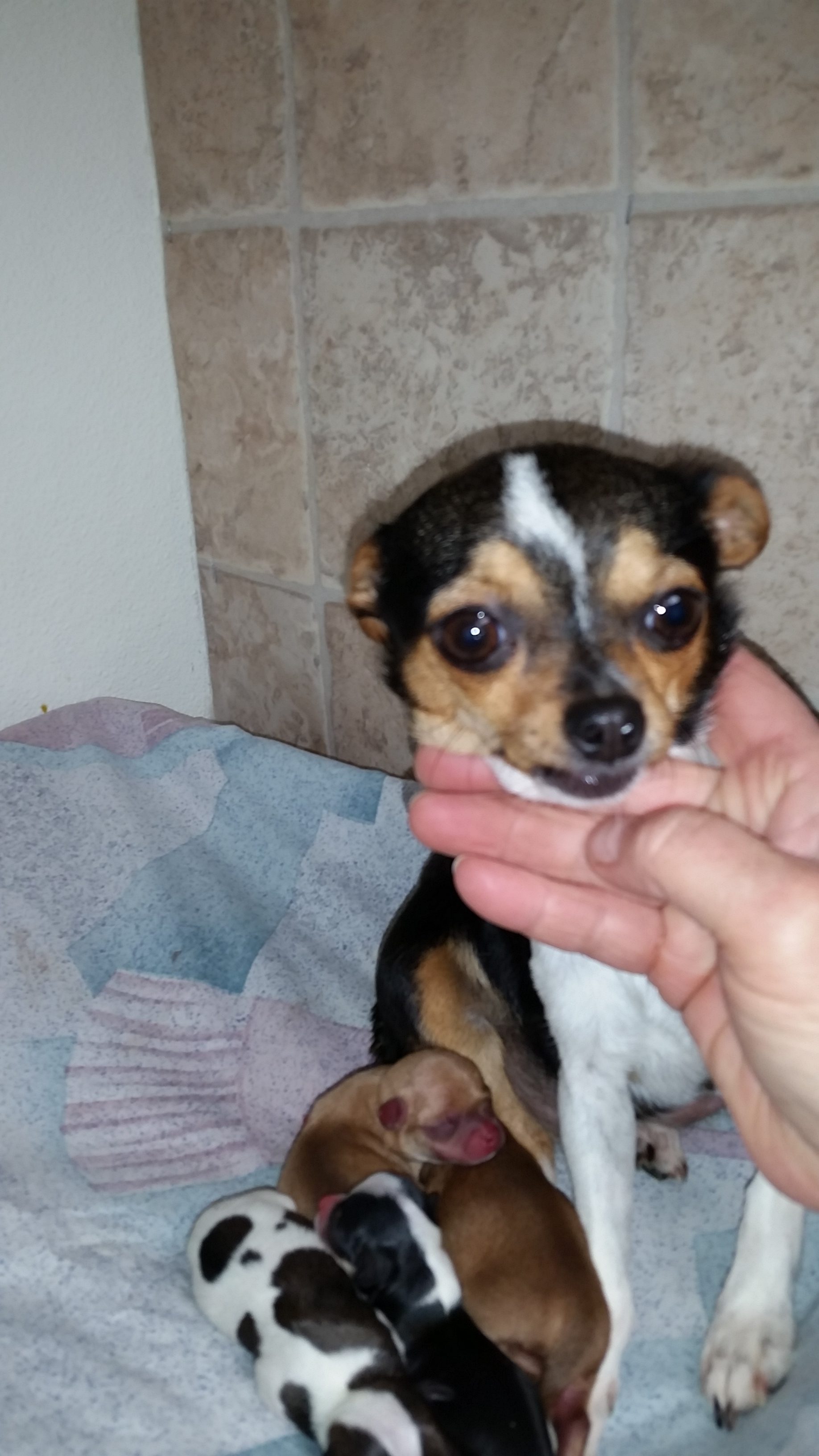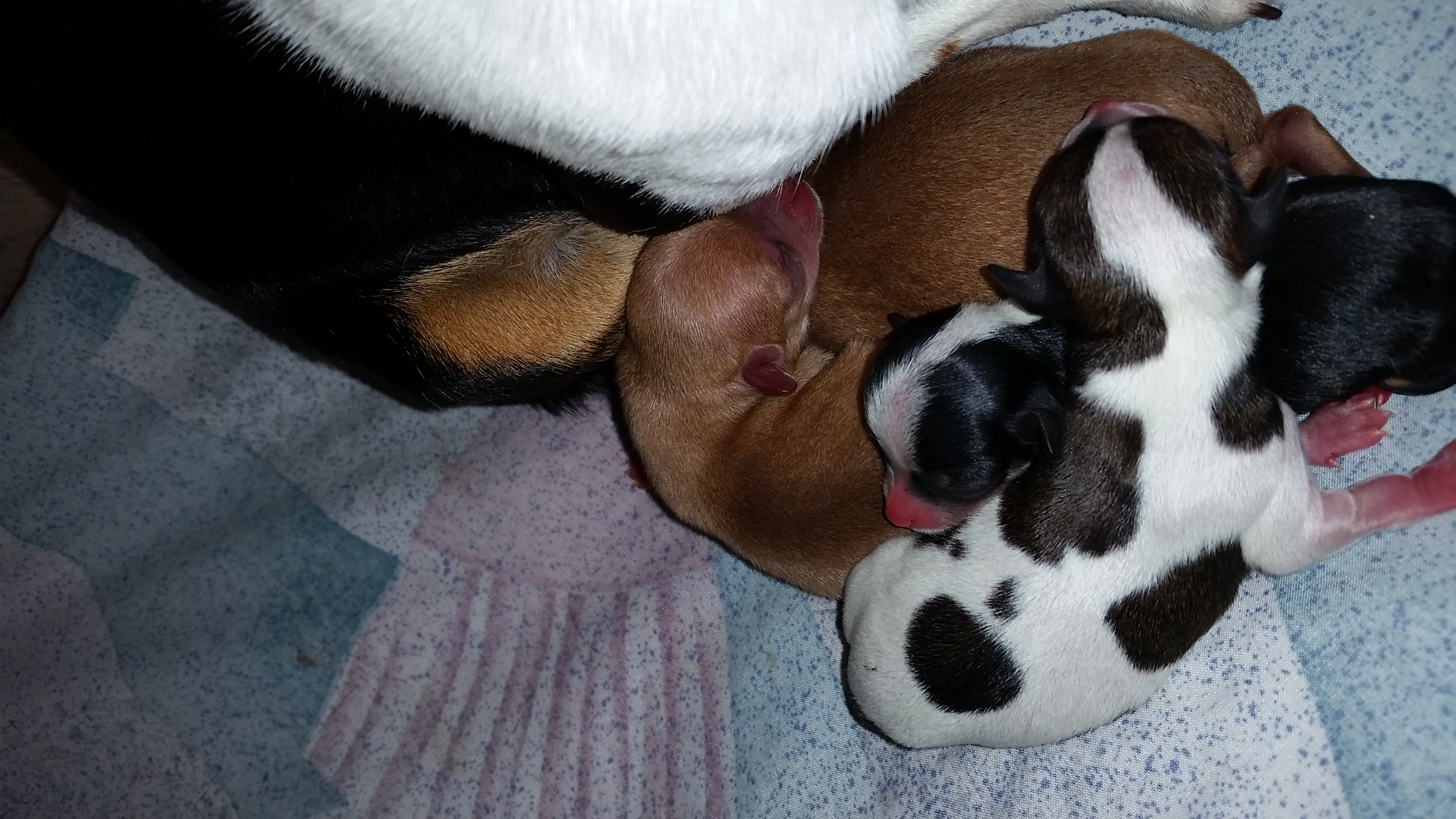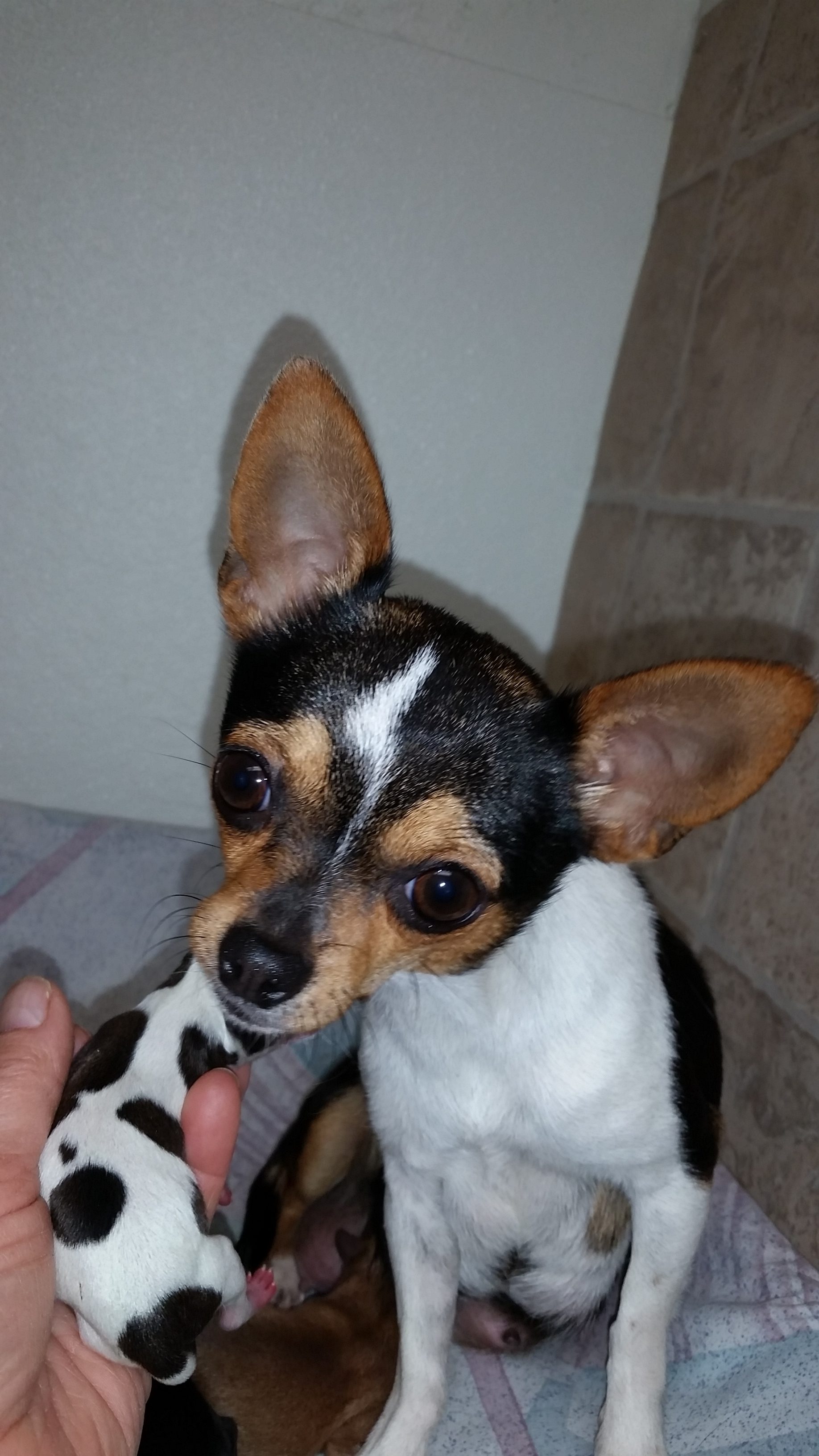 Boys are chocolate-red fawn, black/tan, white markings, and sable spotted on white.
PJ & Grand Champion  Sheppards Secret Weapon

 
2 males/2 females               BORN  May 16   
 1 long coat boy available
PJ   and her babies (June 2017):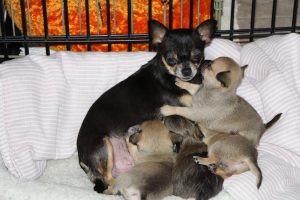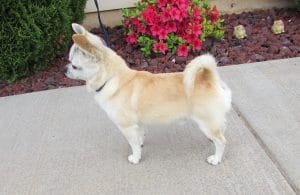 Sire
Bravo (Grandchampion CH Sheppards Secret Weapon)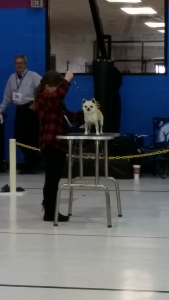 SIRE
Saber: male AVAILABLE
 < Baby photo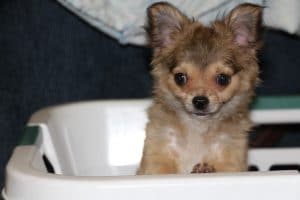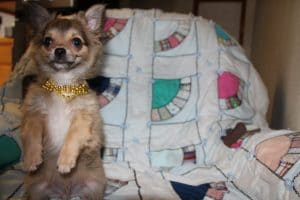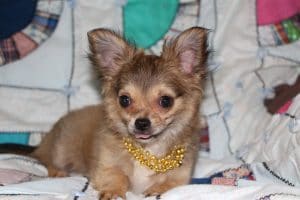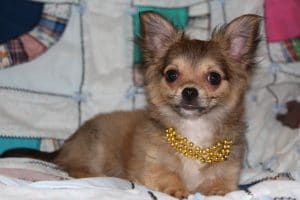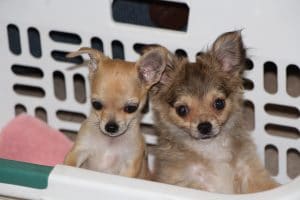 Sable (left) and Saber (right)
Small Fry-  male SOLD   In Rhode Island now!
Sonata- female ON HOLD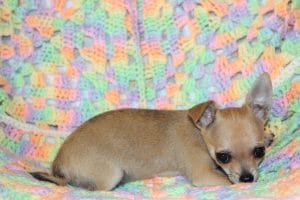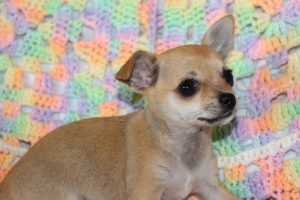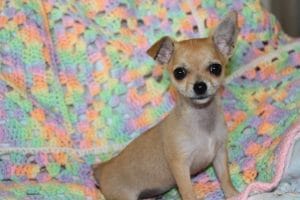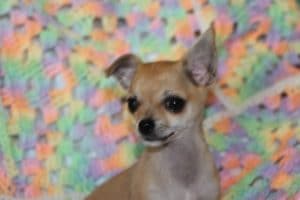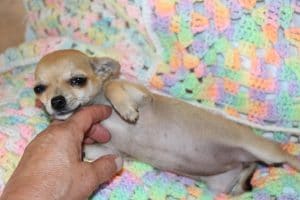 Loves those belly rubs!
Senna and Cruz- 1 male puppy born 6/25         
Terrific blue fawn, silver mask: Scooter   
Cruz, Dad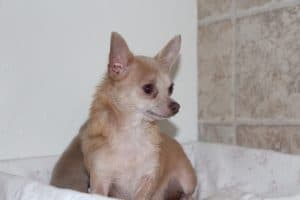 Senna, ,Mom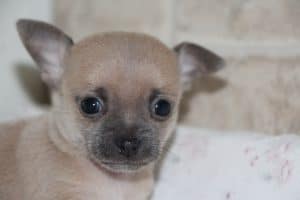 Scooter (baby photo)
This tiny boy will mature about 2 1/2 to  2 3/4  lbs!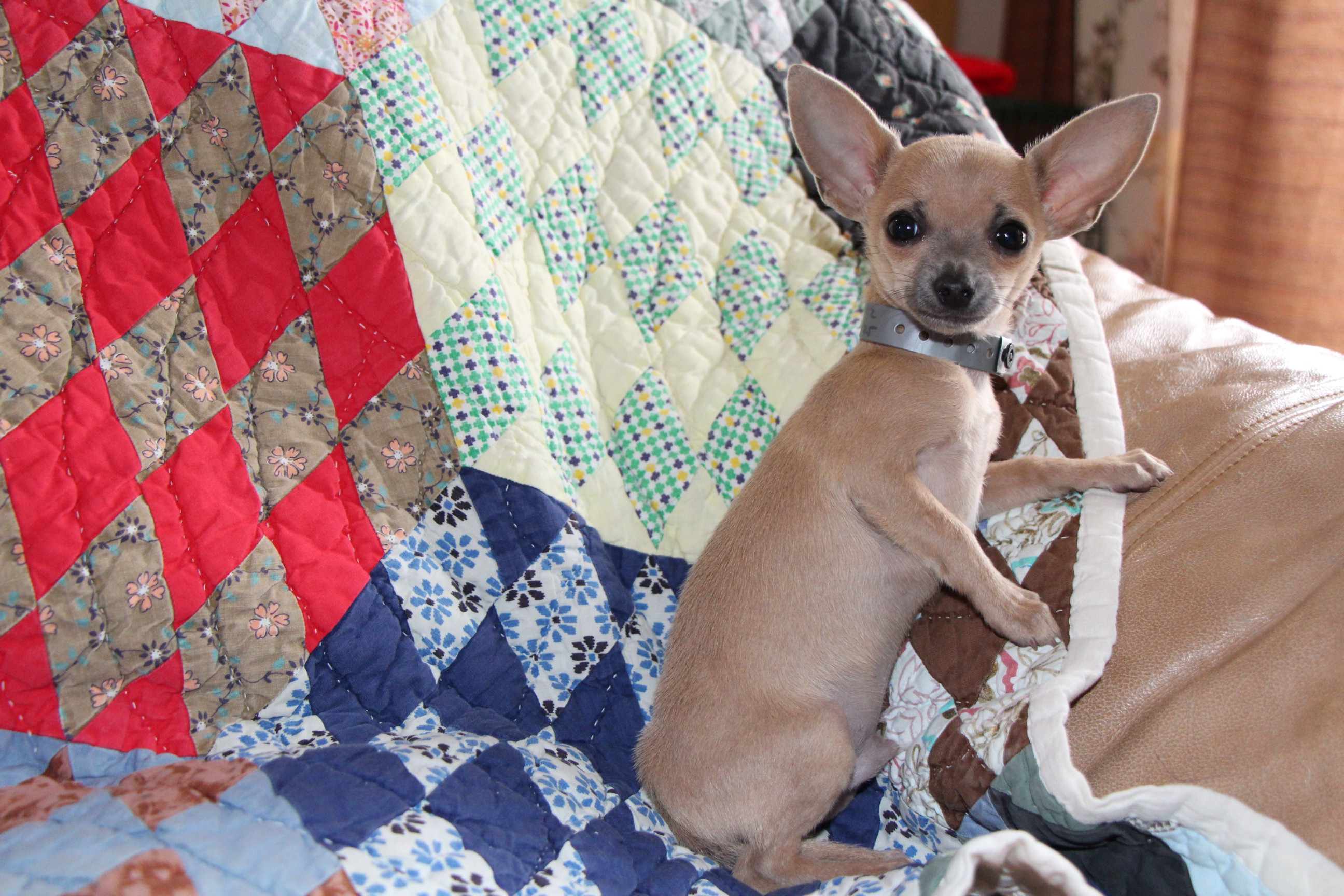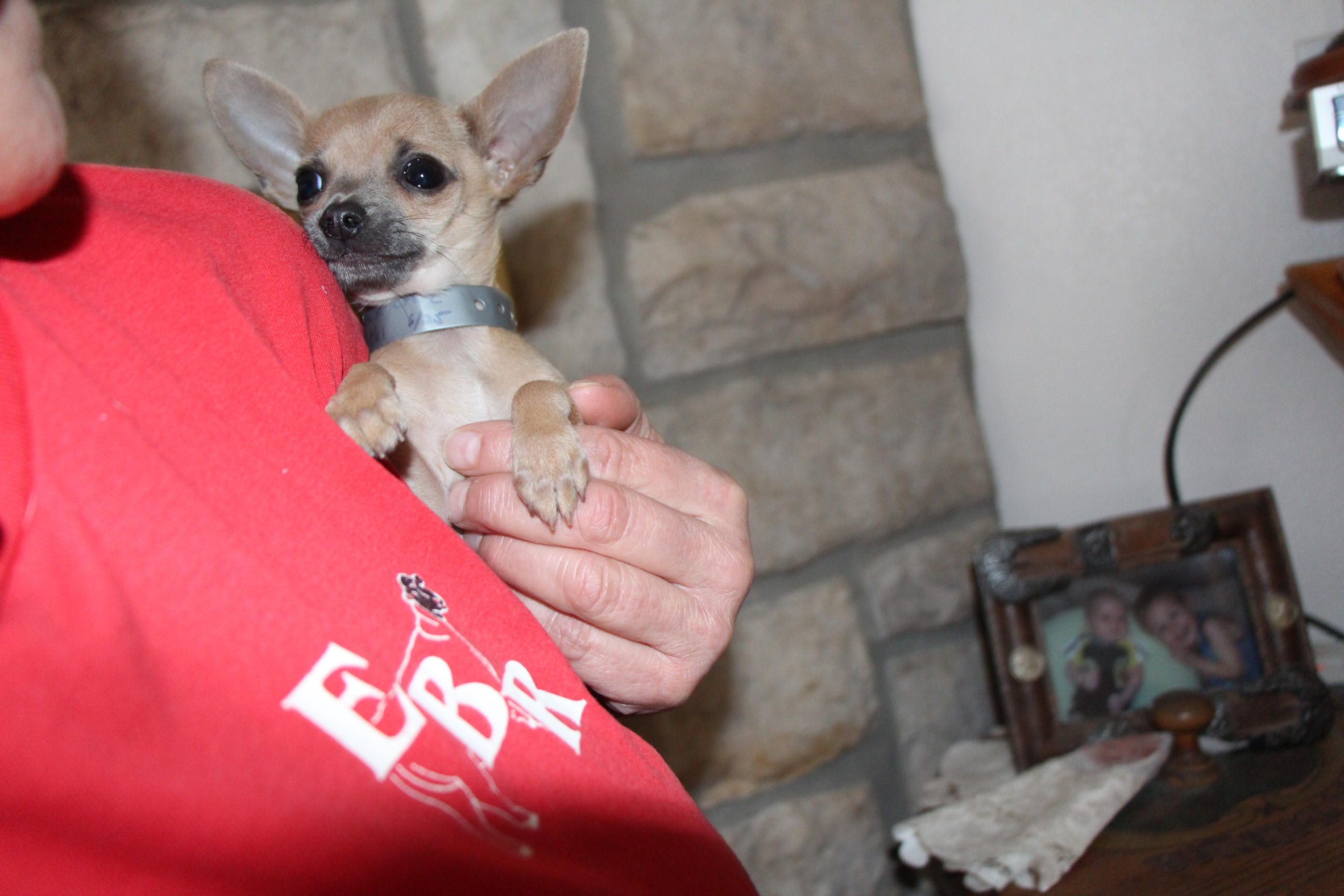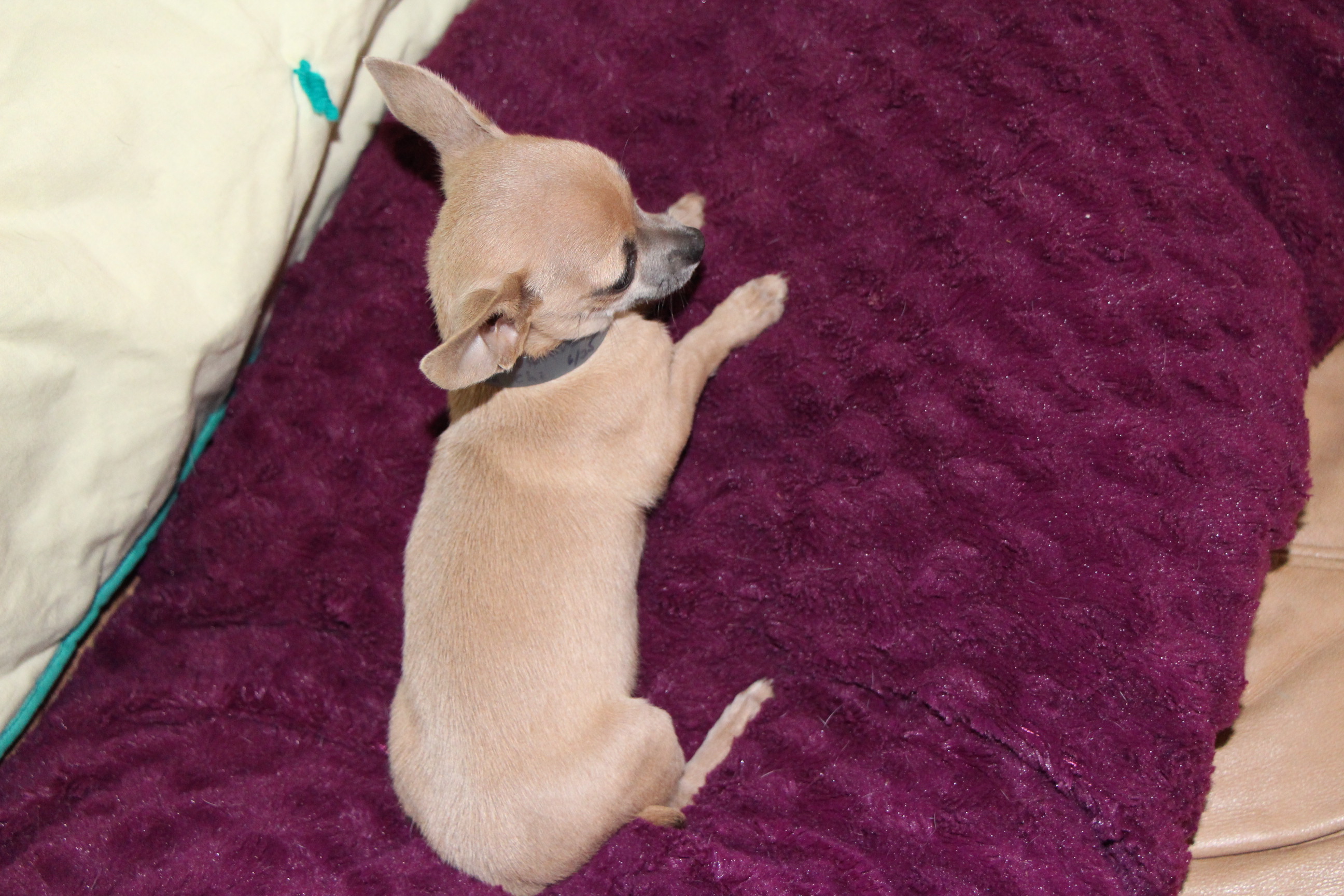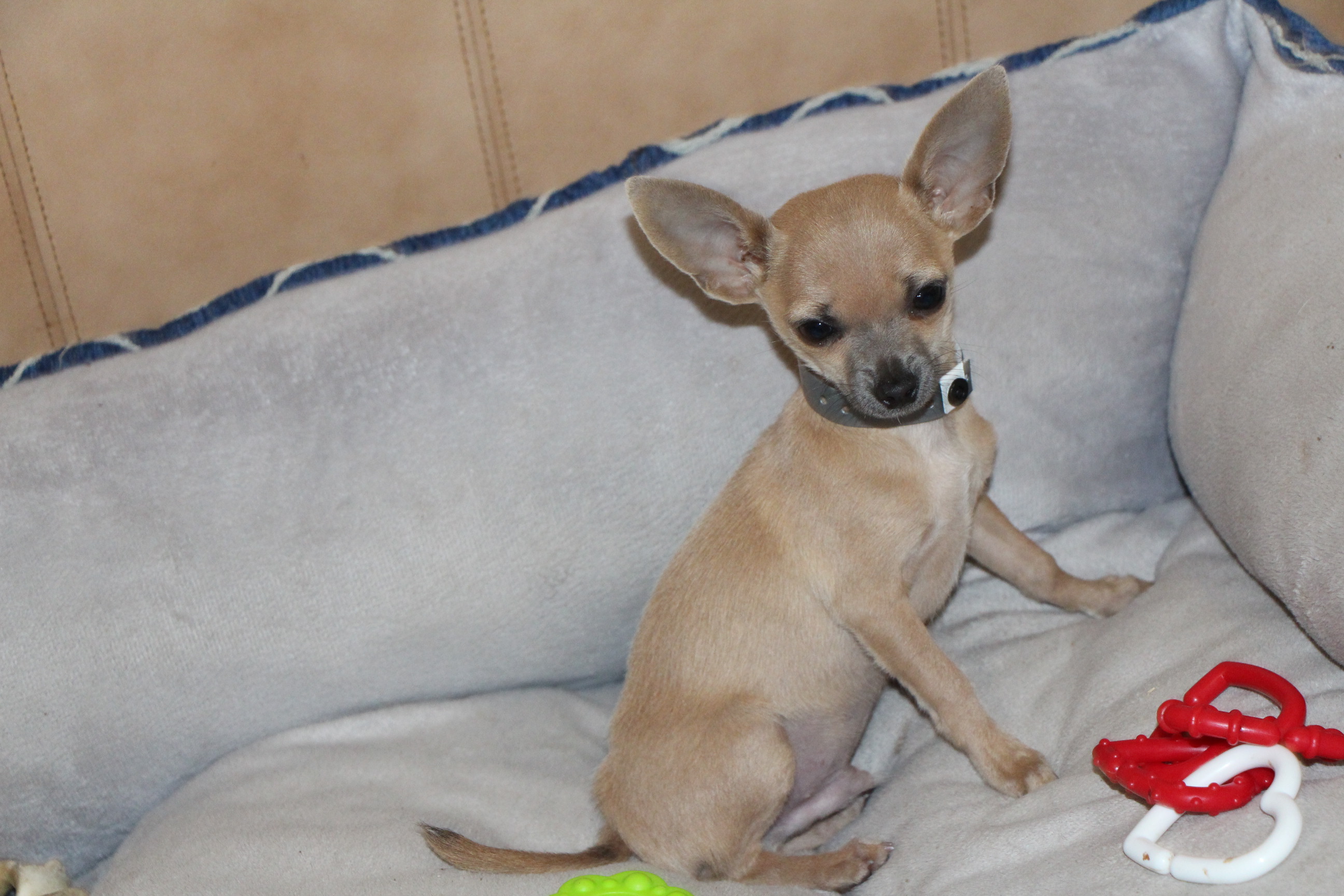 Recent photos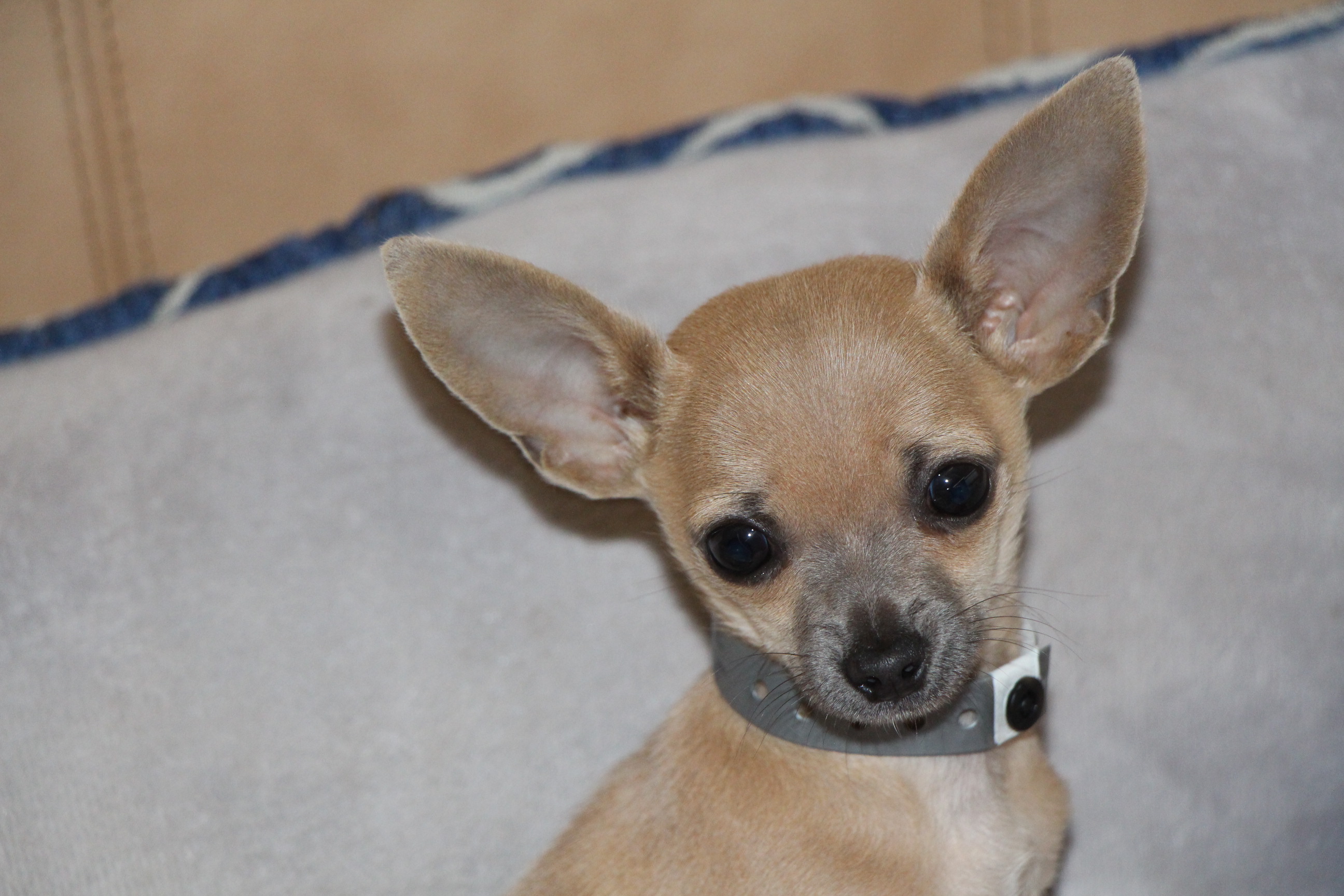 How can I be any cuter??!   $2500
Merrit & Bravo- Babies arrived Aug 10!  4 males, 1 female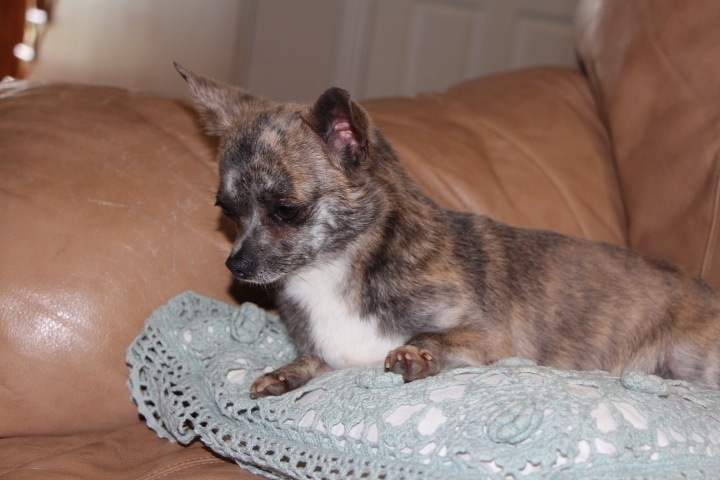 Mom, Merrit, 6 1/2 lbs (blue-brindled fawn)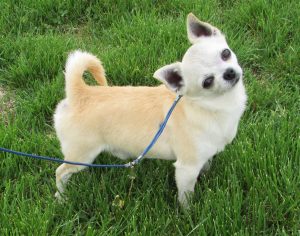 Dad, Bravo (Grand Champion Sheppard's Secret Weapon)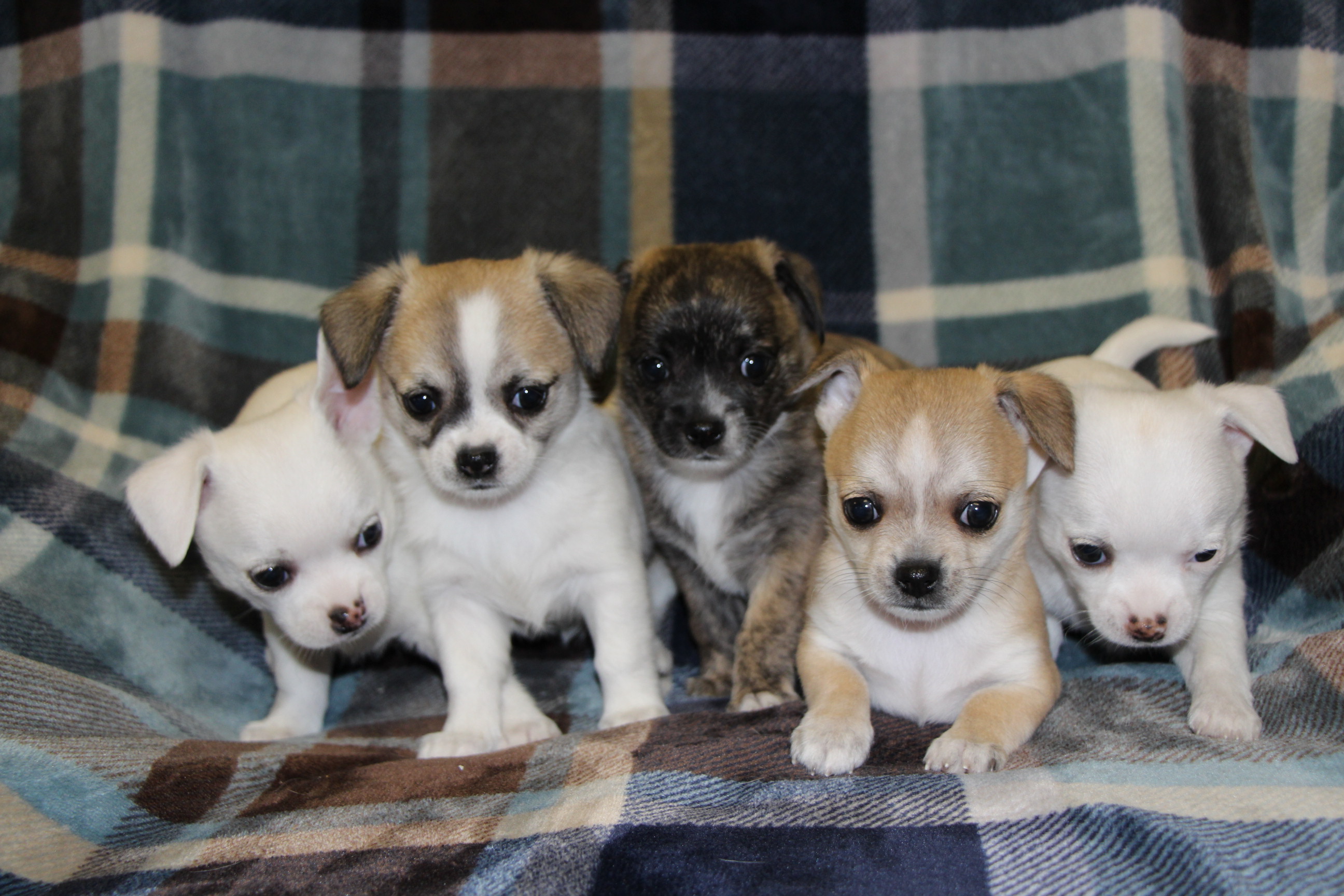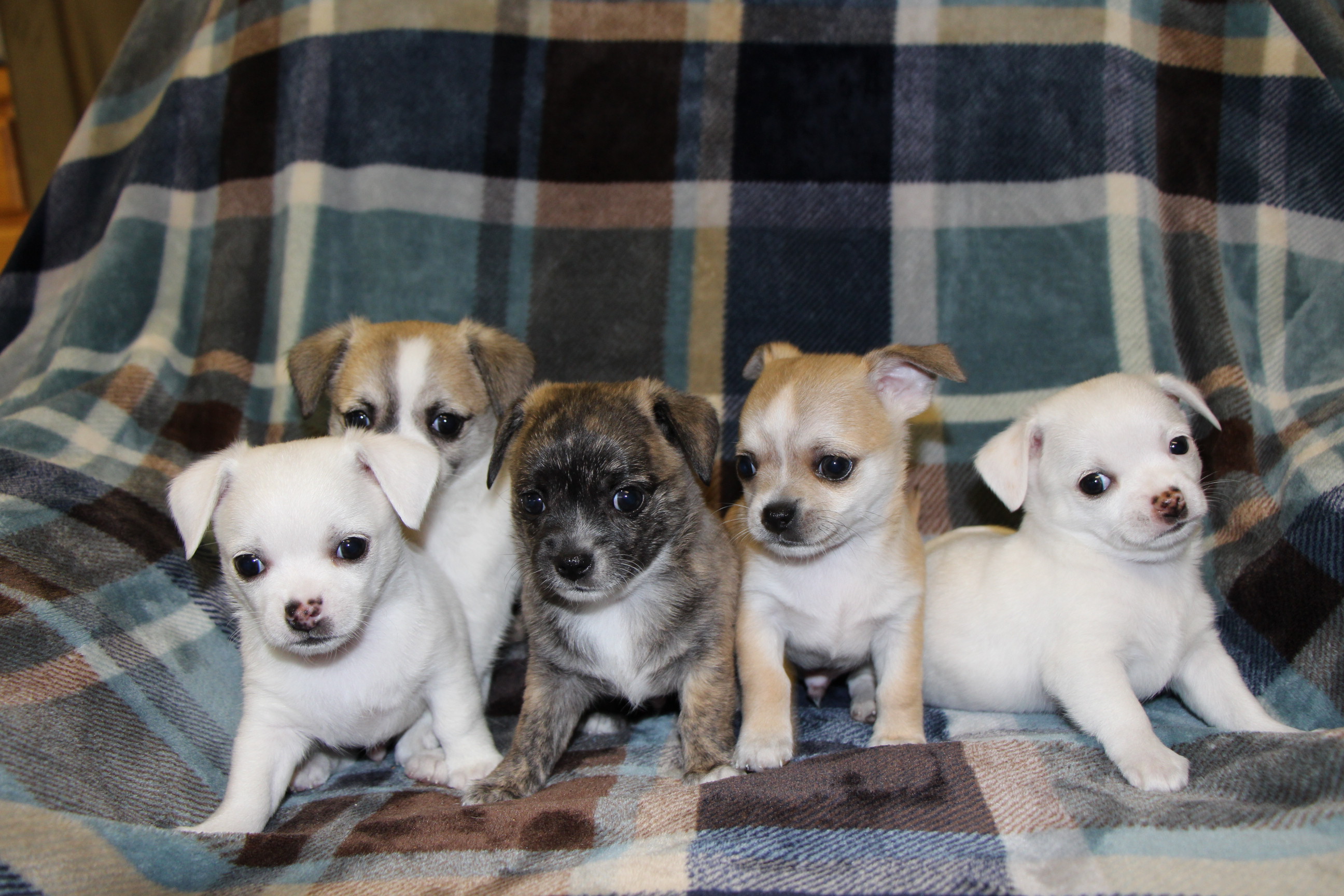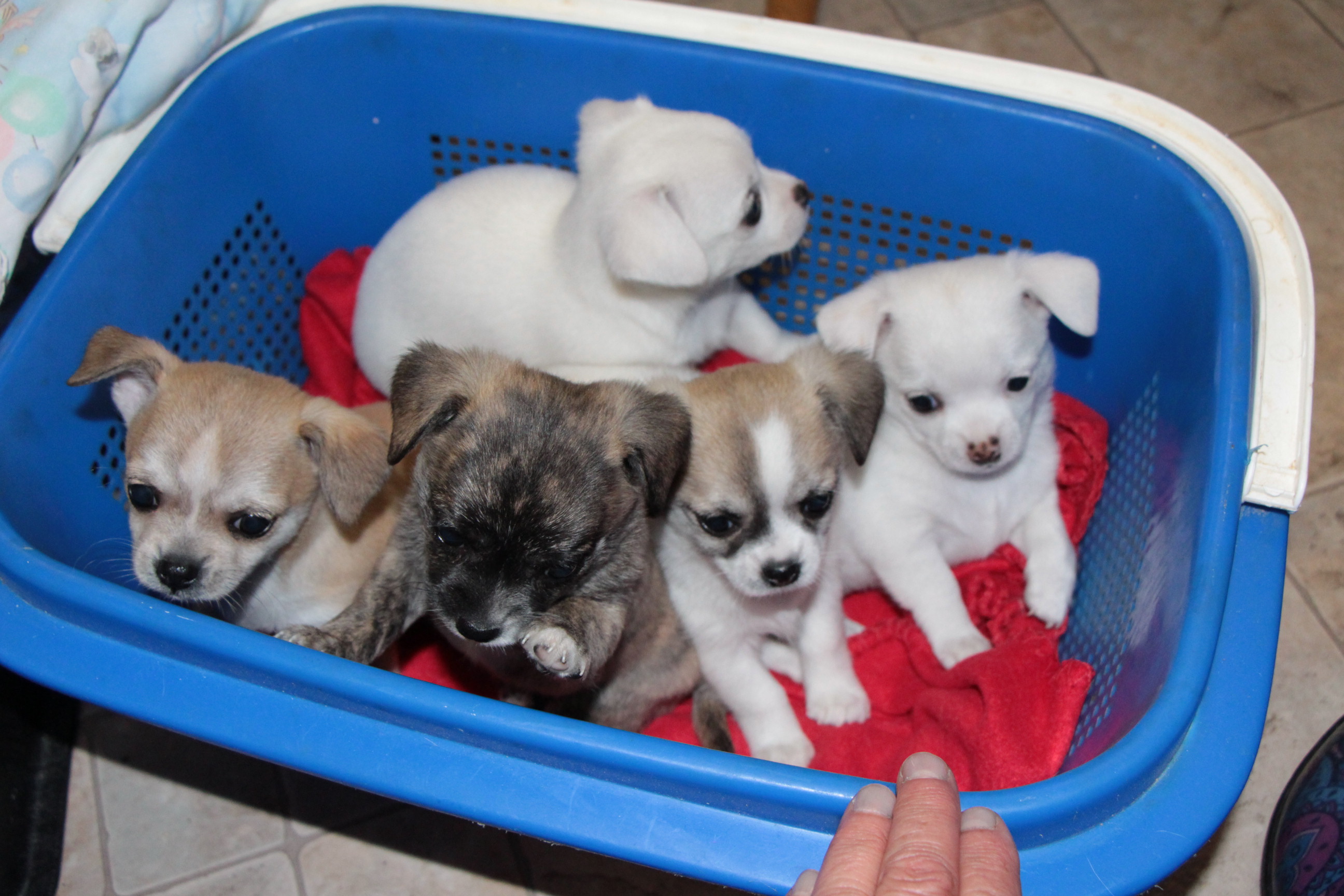 All boys, except the girl who is white with the fawn on ears and around eyes (second from left in first photo)
male: MANGO      

ON HOLD
baby photo
NEW PHOTOS: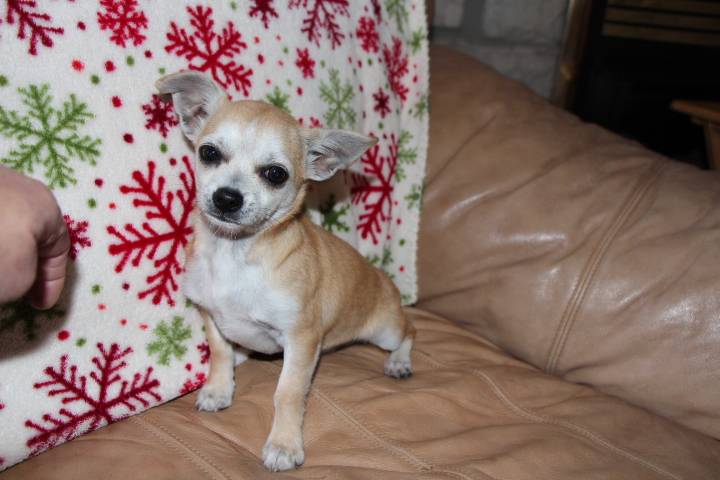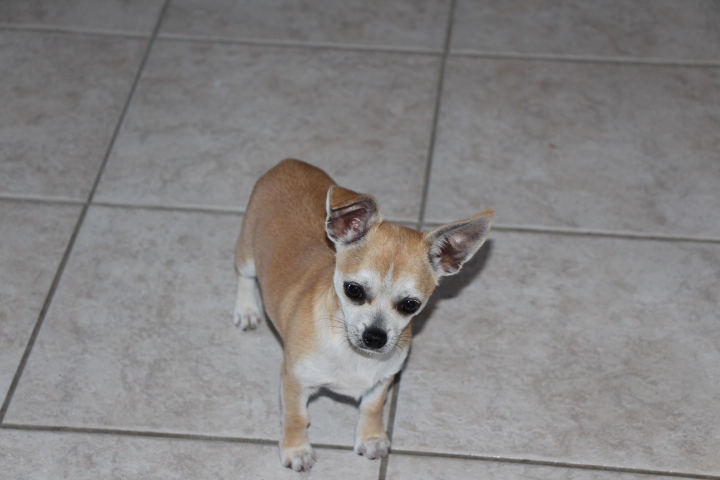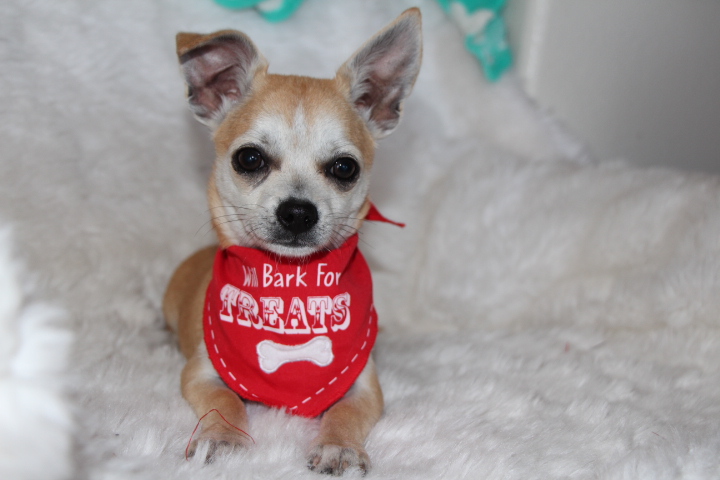 MANGO
male: MYSTIC    AVAILABLE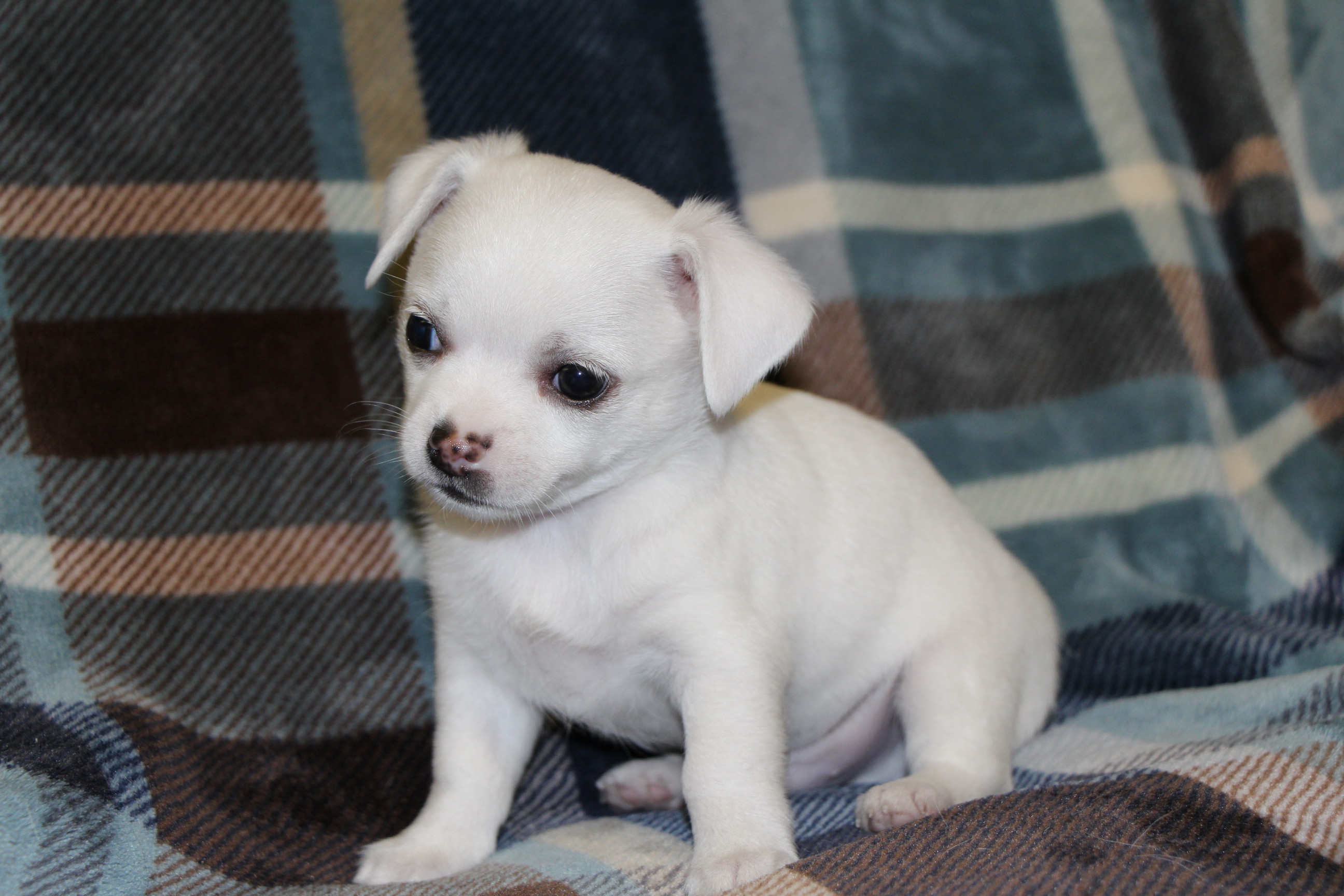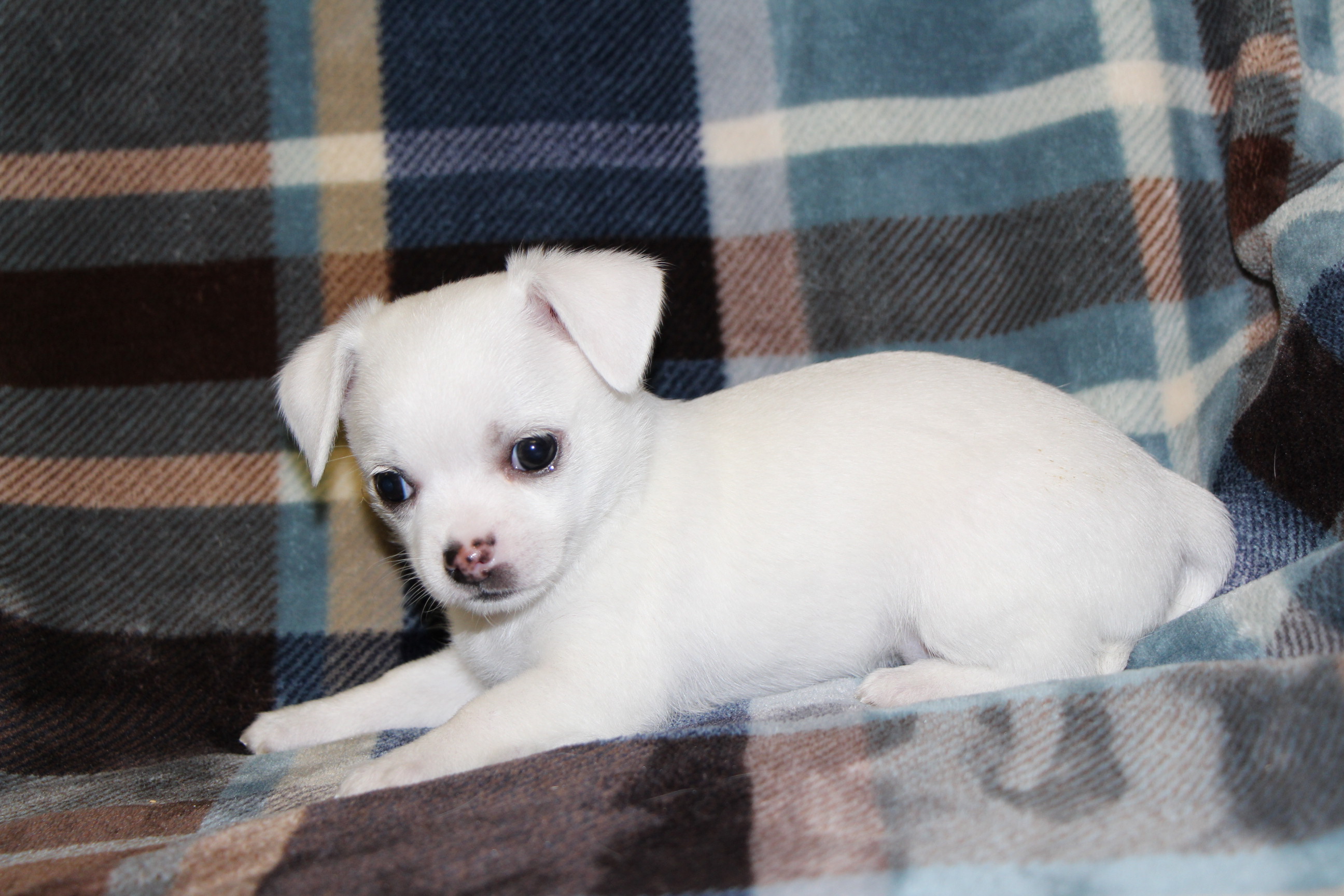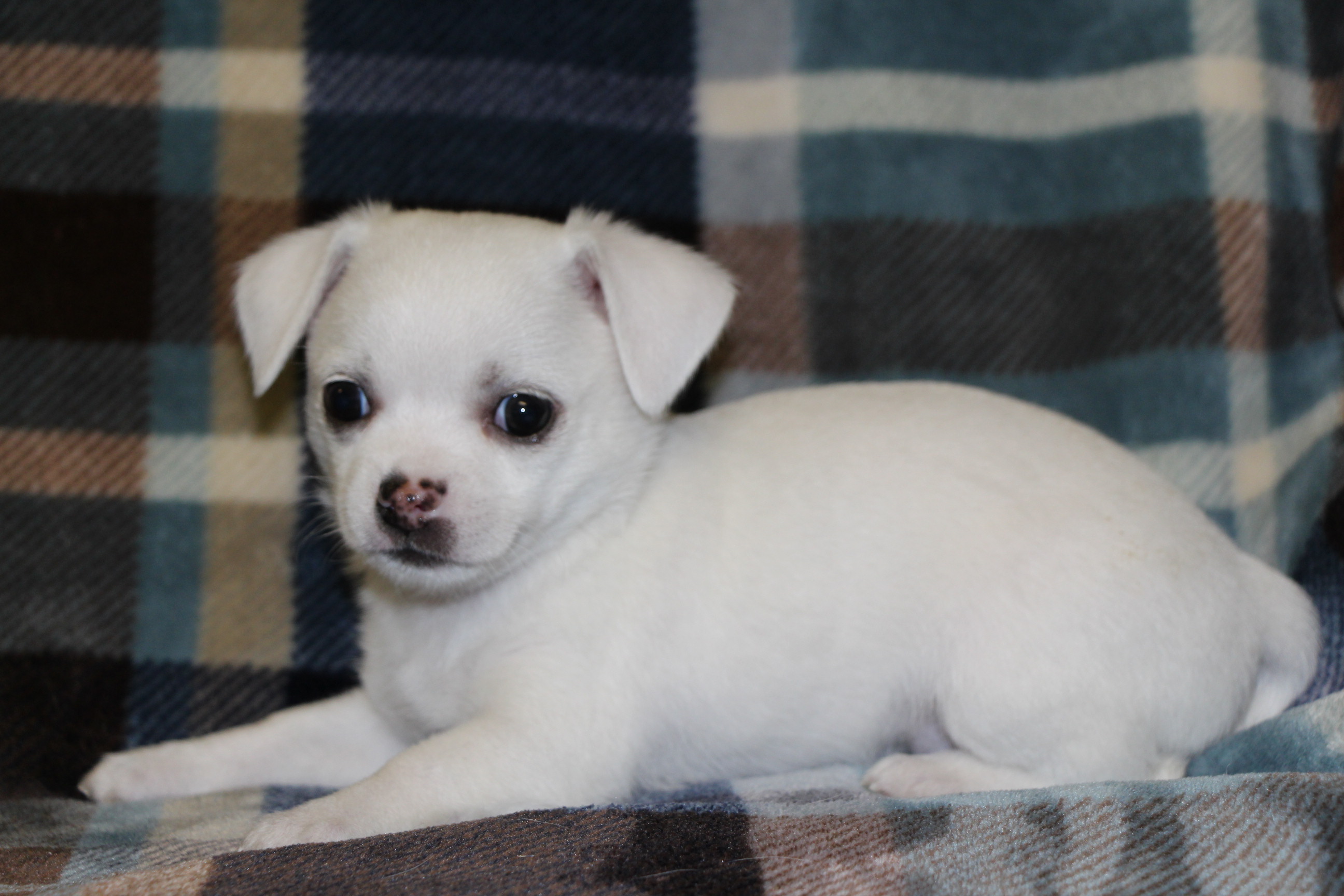 Nice dark pigment (will fill in on nose).  This guy looks like he has a mustache!
male: MARBLE       SOLD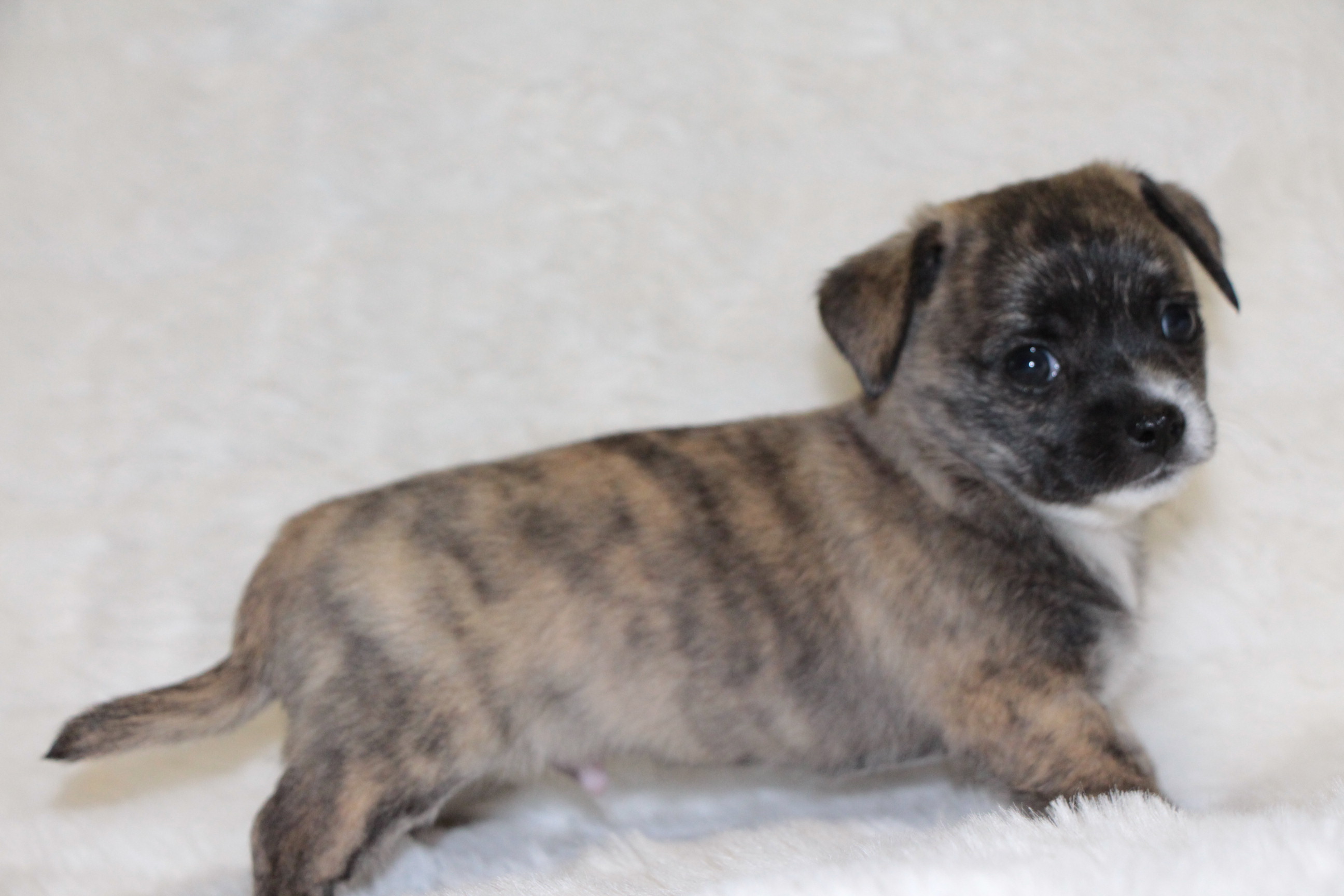 Unique tiger brindle with dark face and white markings. He is a real eye-catcher!
male: MAGIC  ON HOLD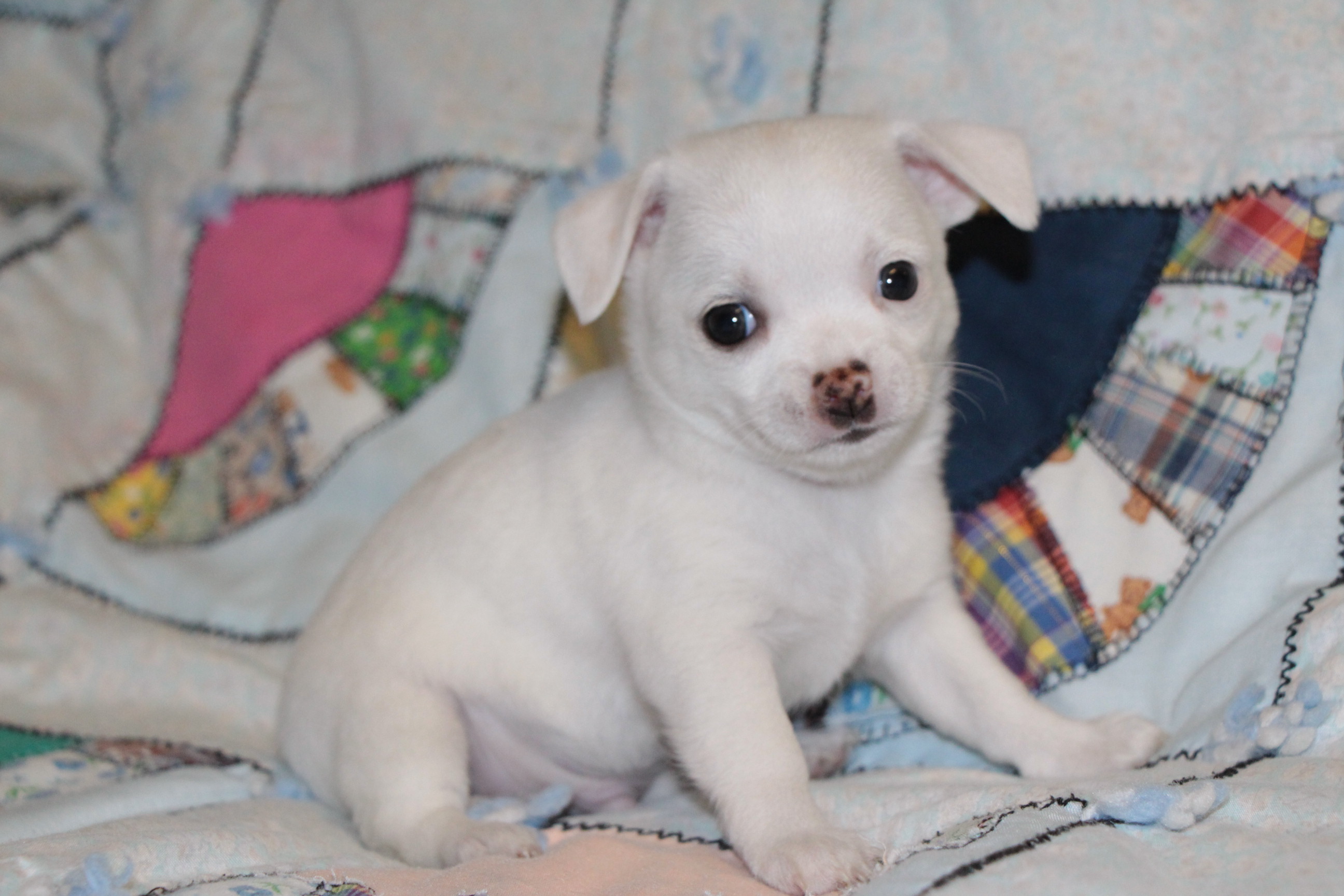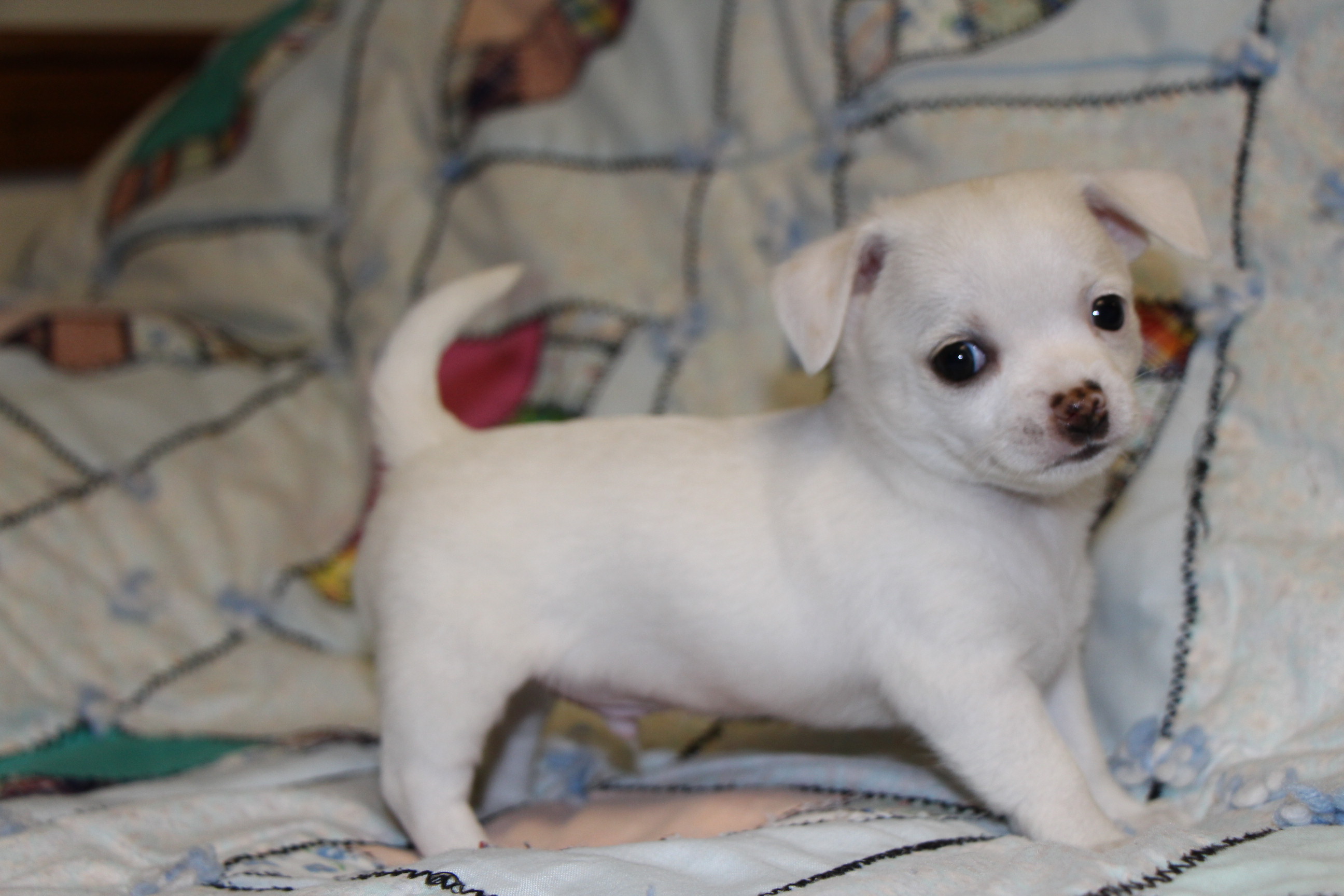 Magic has a darker ring around the right eye and also a very light cream spot on top of his head.  He is built short and square…going to be a very handsome fellow when he grows up!
female: MIRABELLA     AVAILABLE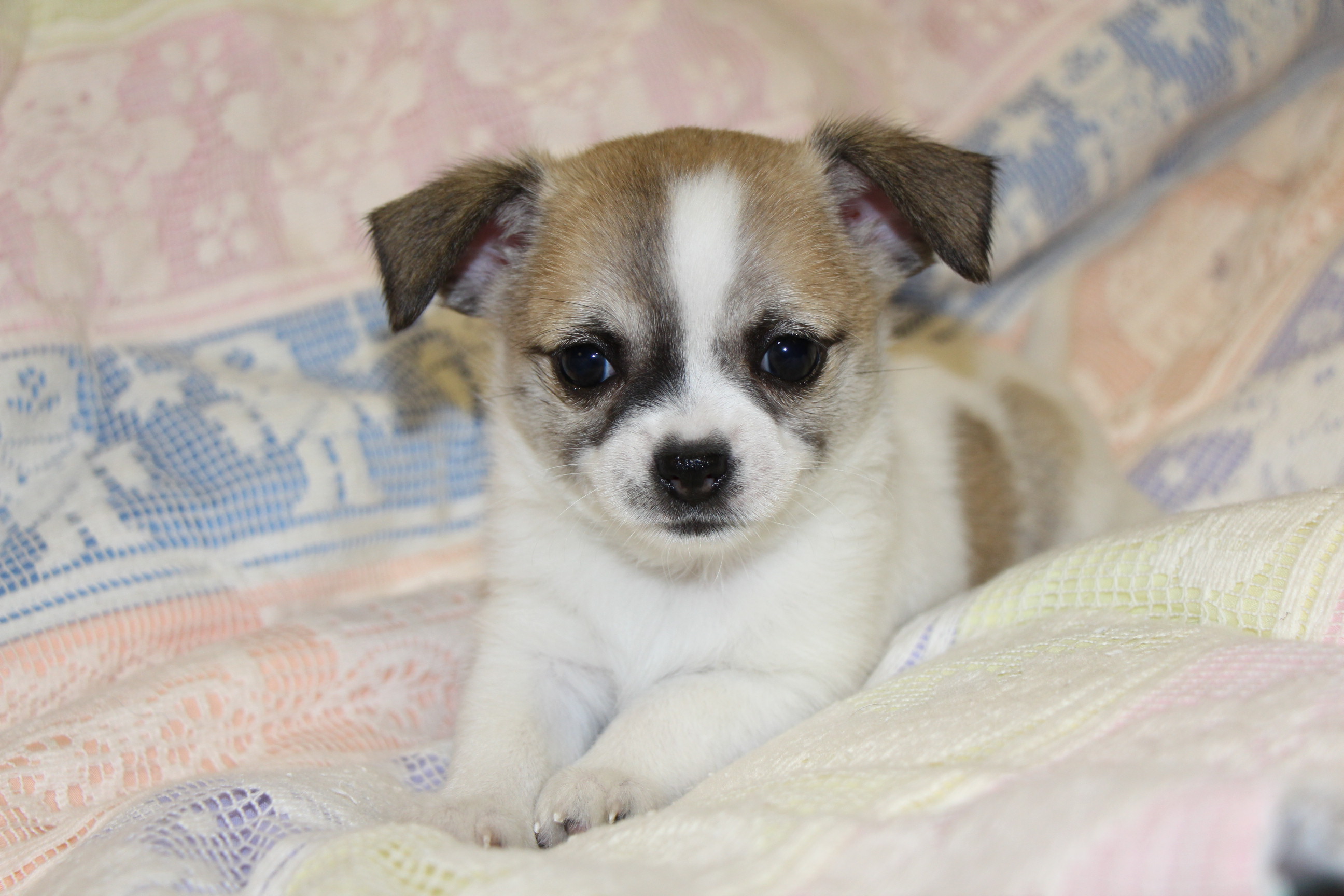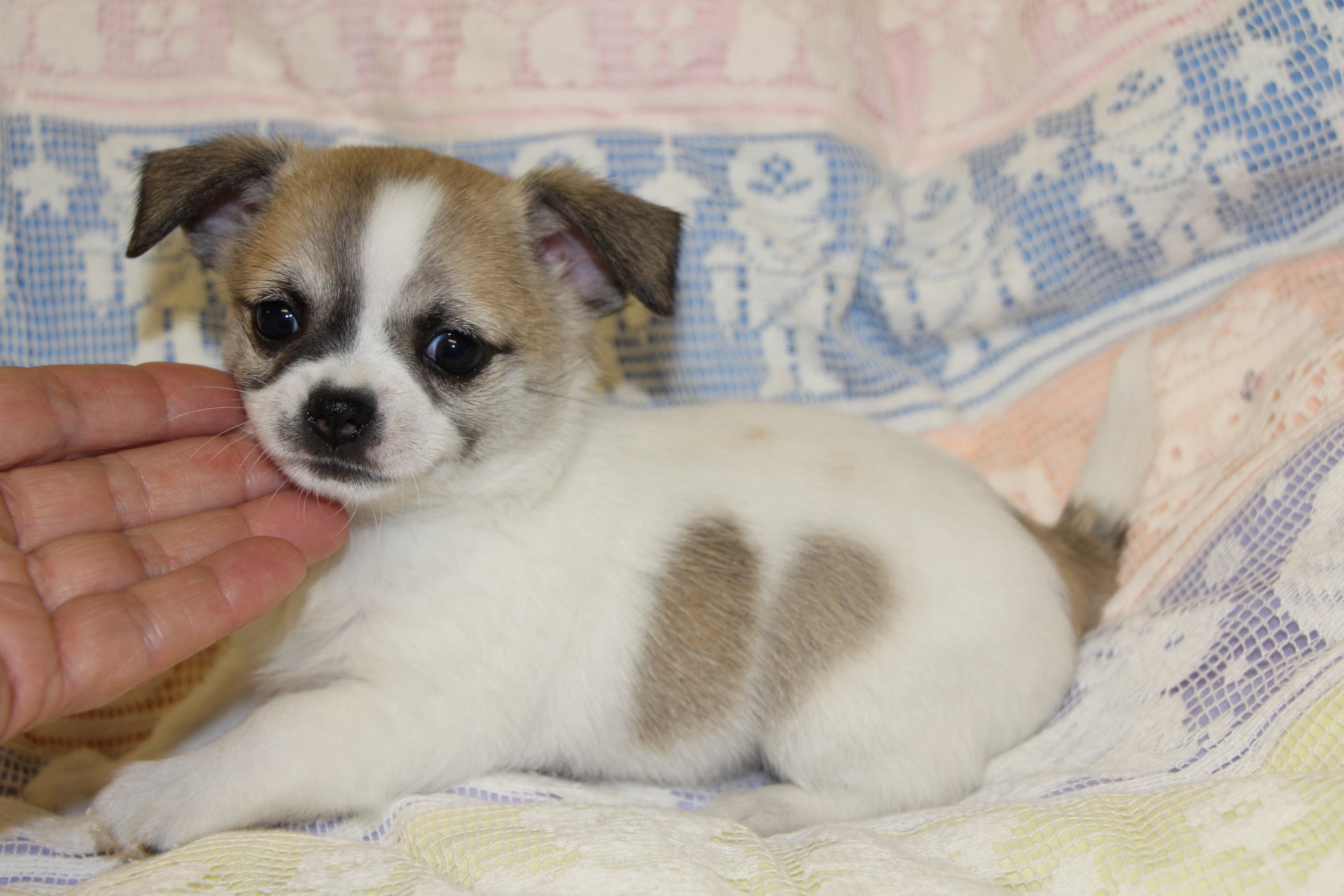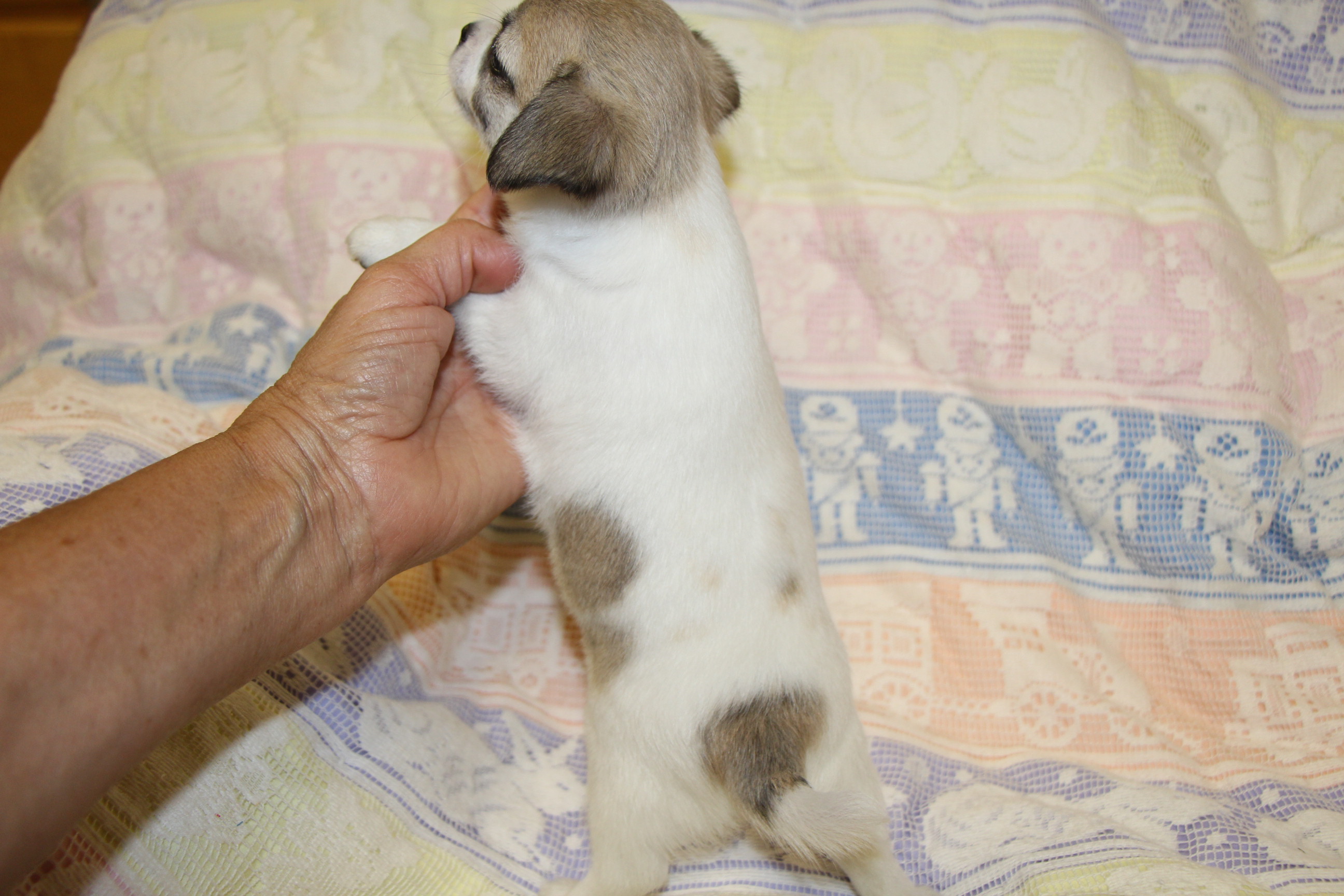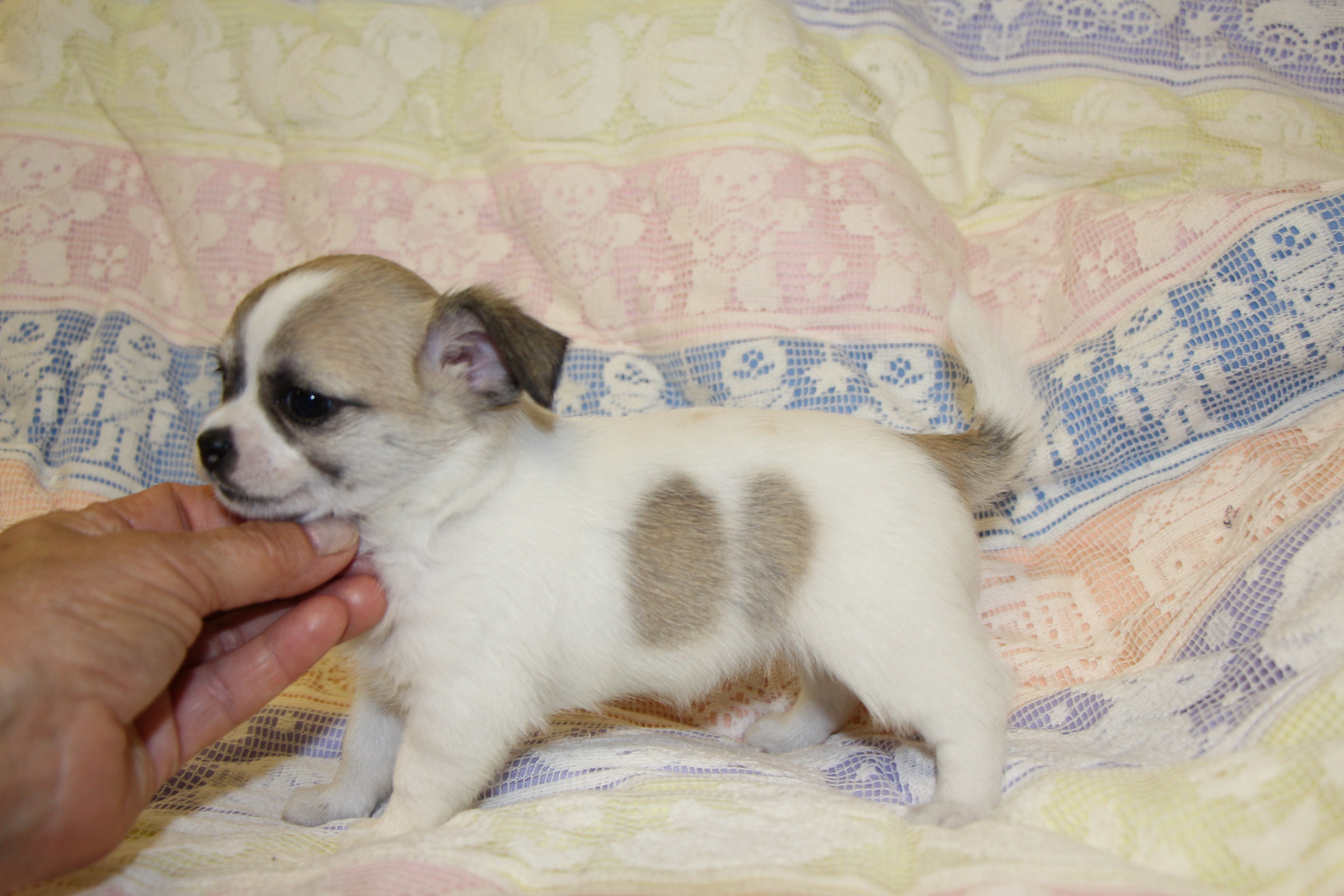 Mirabella has the softest plush coat! She is my vivacious, outgoing and adorable baby.  Only girl in her litter!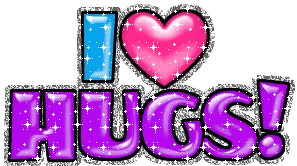 If you are looking to add some rare-colored genetics to your breeding program, or would just love to have a very different colored Chihuahua baby…you must consider one of these babies!  Very healthy, and parents have the very best personalities…such people-friendly and loving dogs~
Tootsie and Montezuma have 6 beautiful babies…born Aug 30 (1 male/1 female available)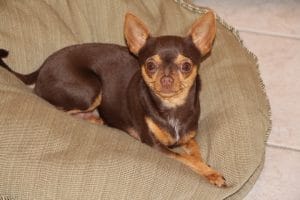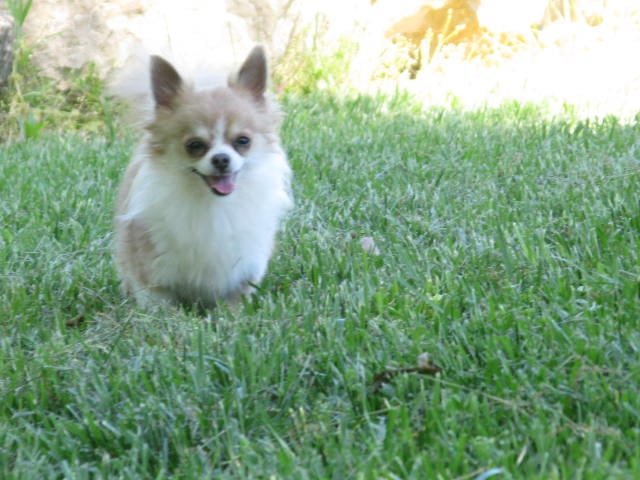 Tootsie & Montezuma (parents)
Have a extremely nice litter born Aug. 30th– 4 males, 2 females…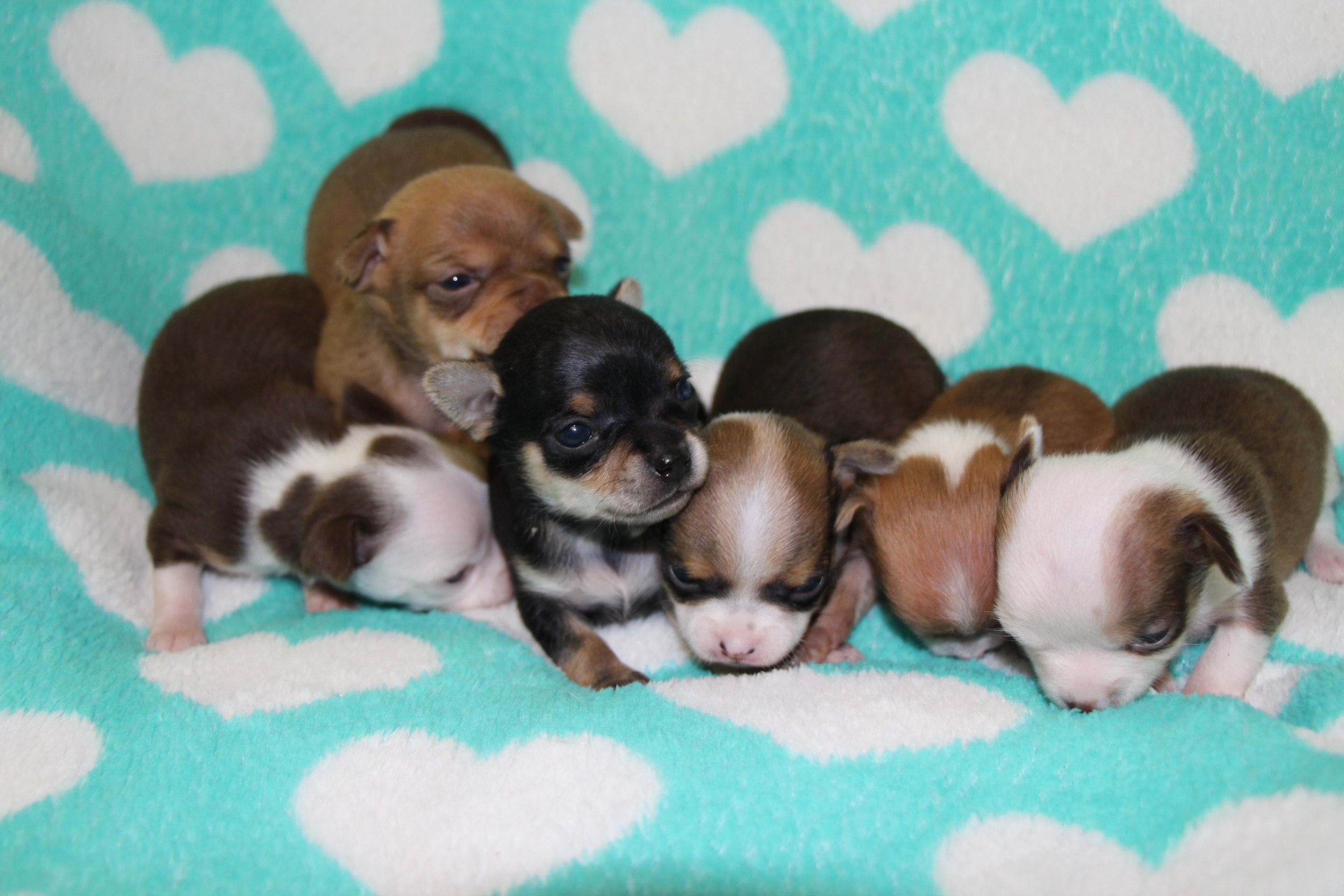 New photos!  Male "Togo"   Classic black & tan.  SOLD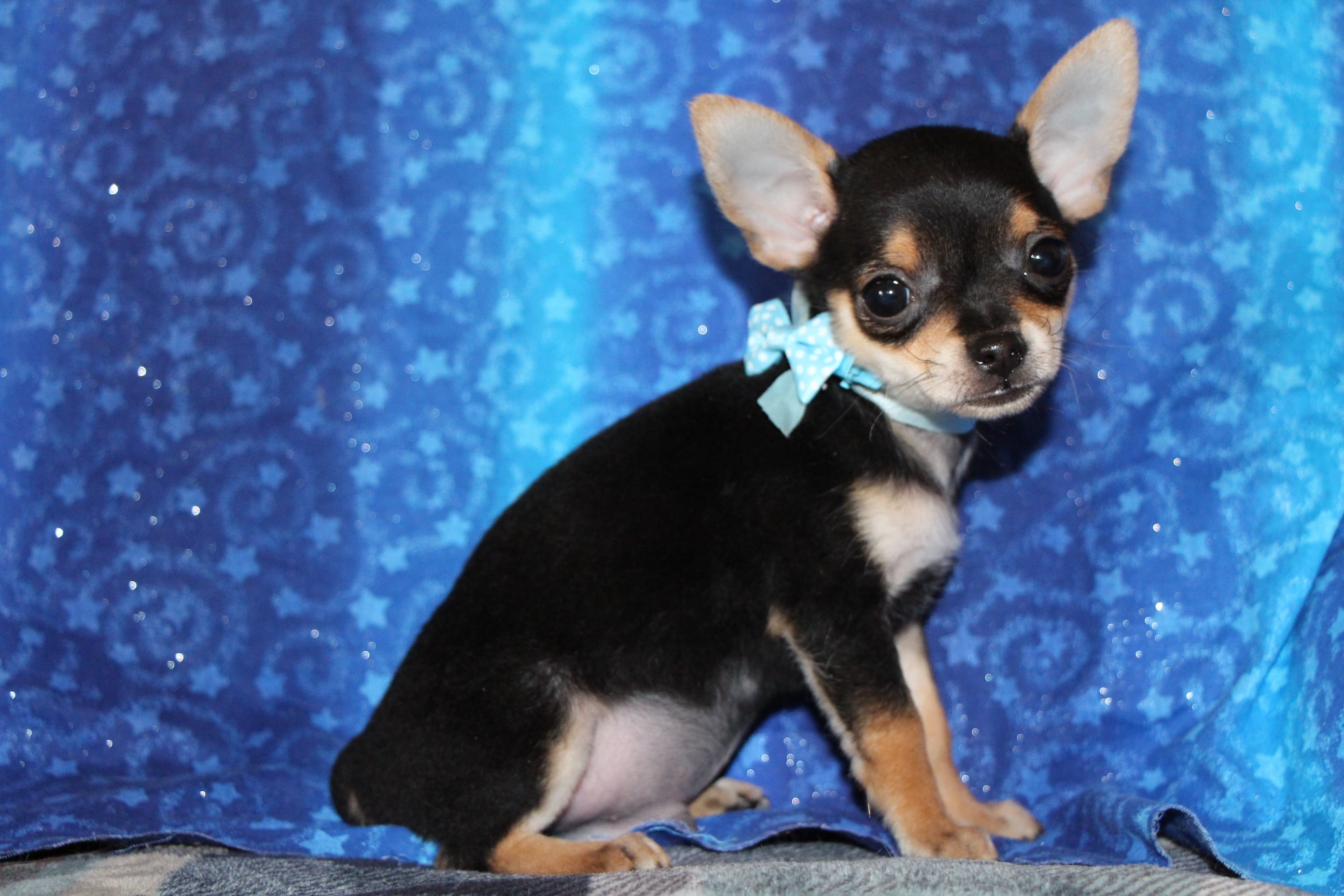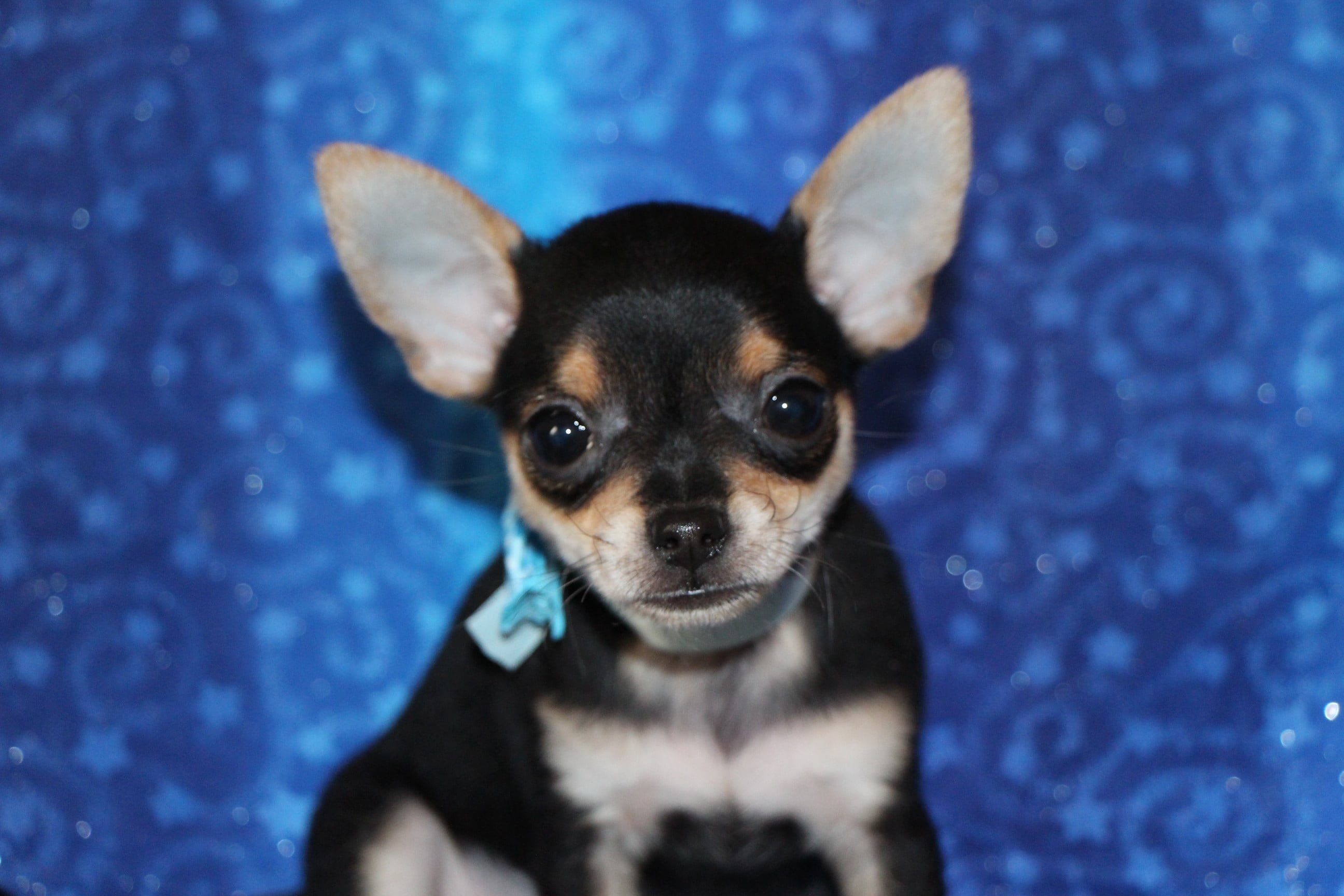 Blaze: Little character…right in the middle of things!  Charting 3 1/2  lbs AVAILABLE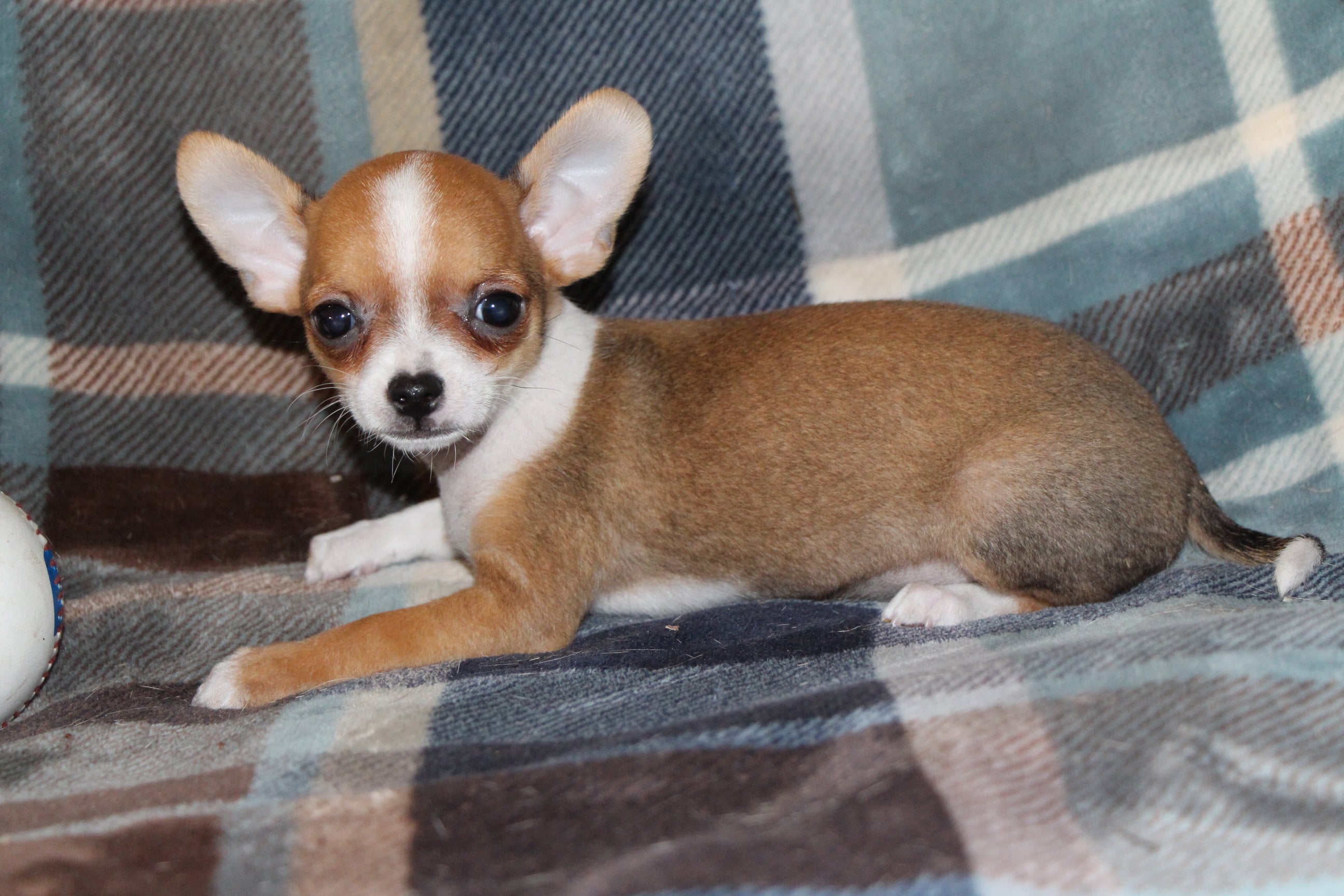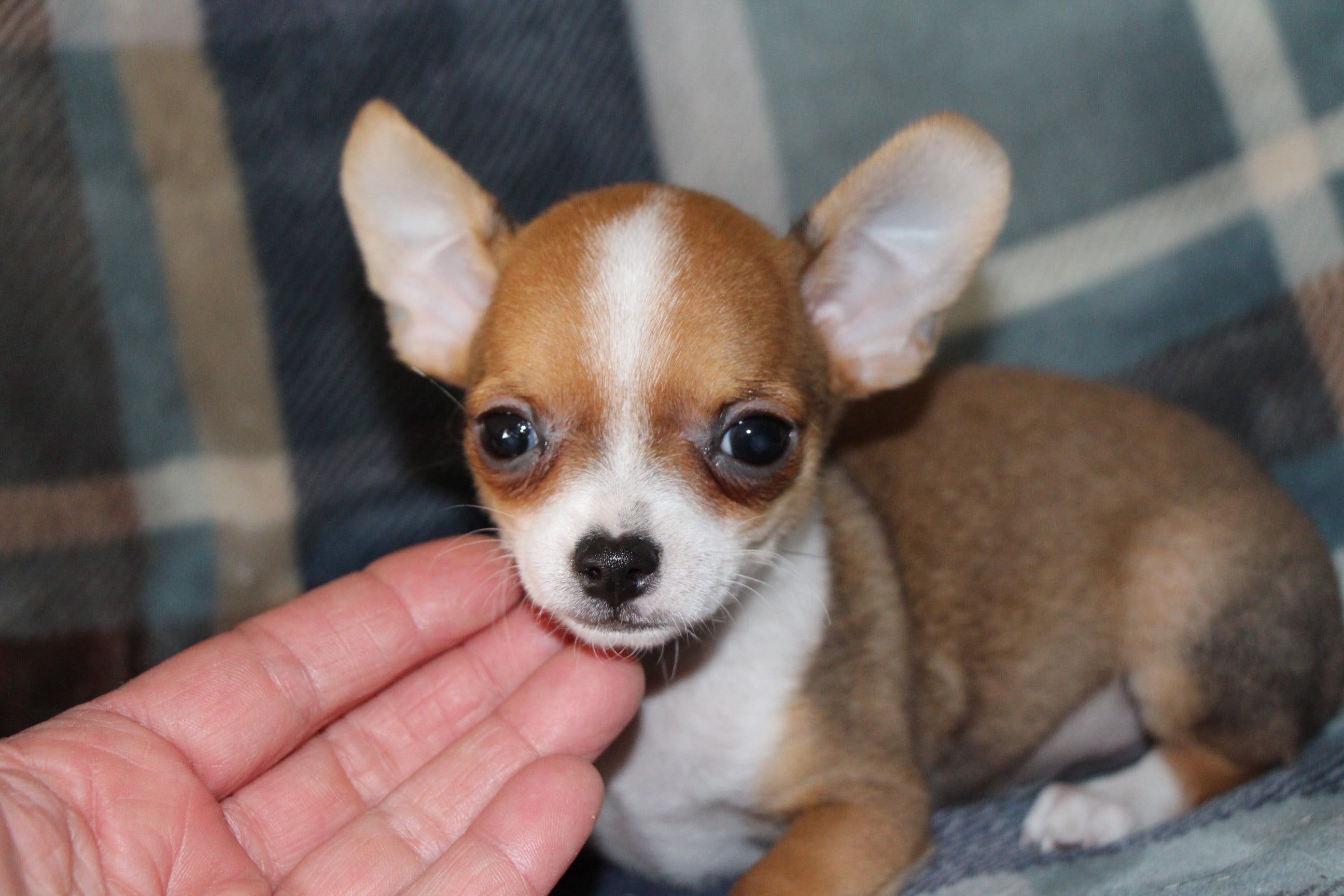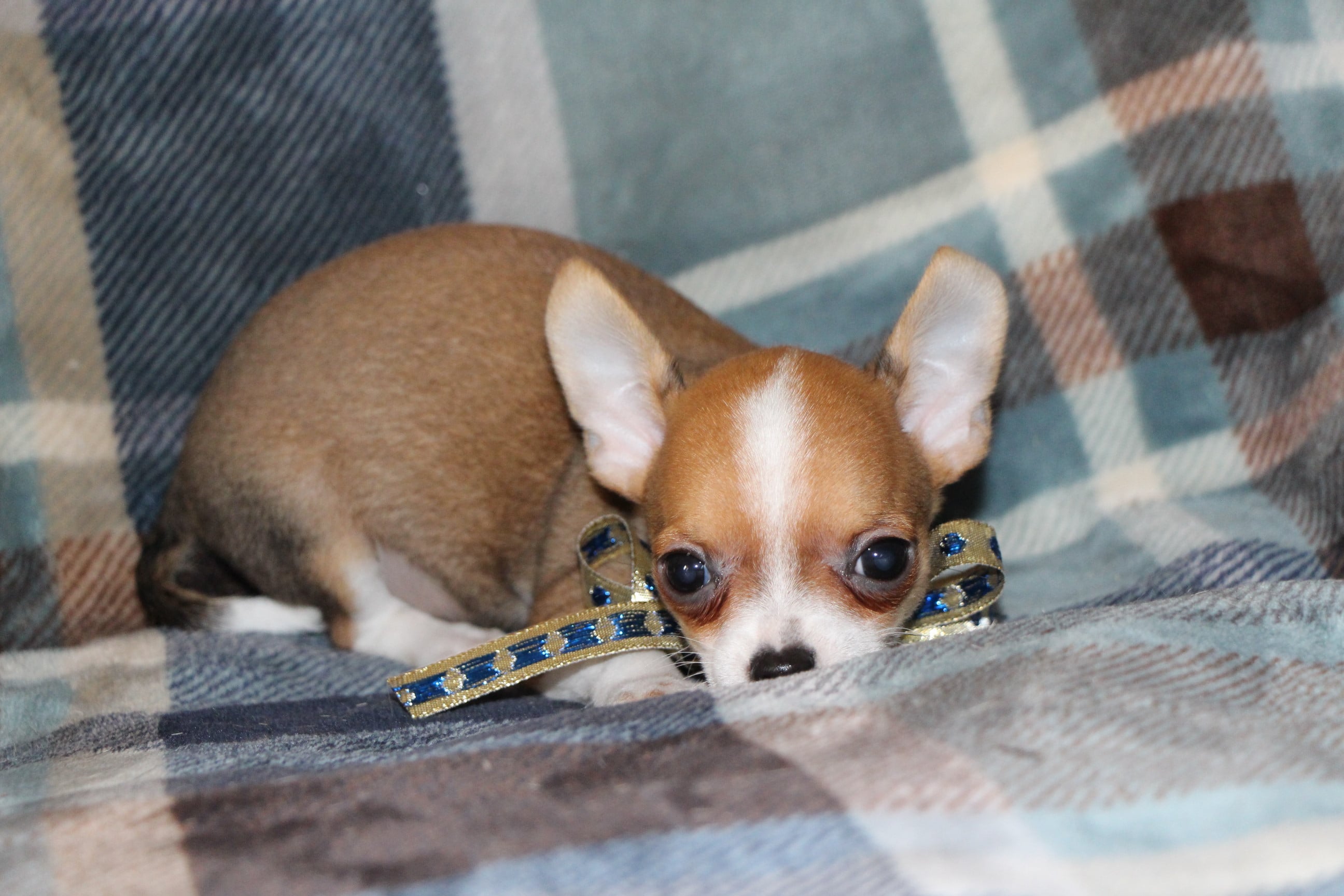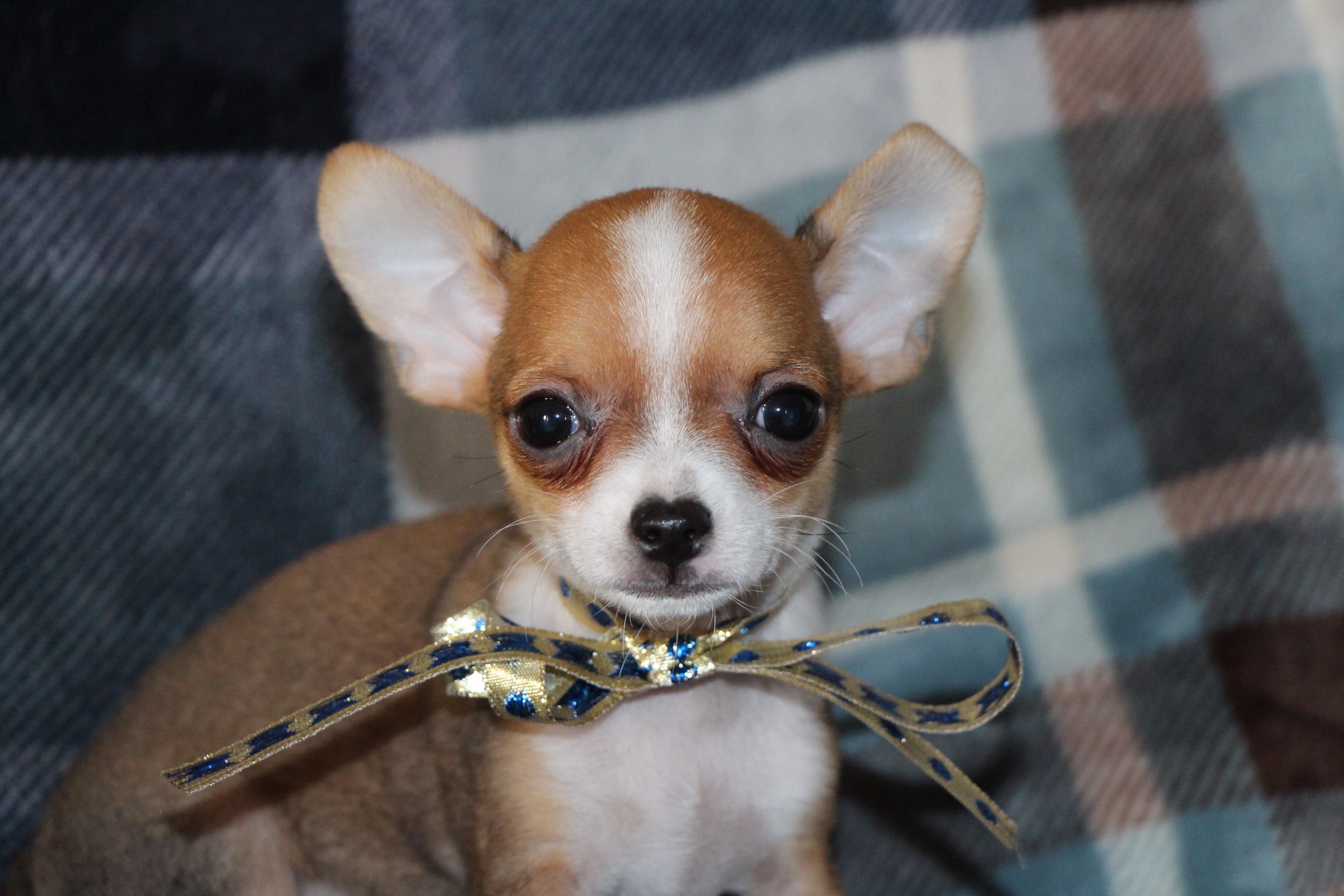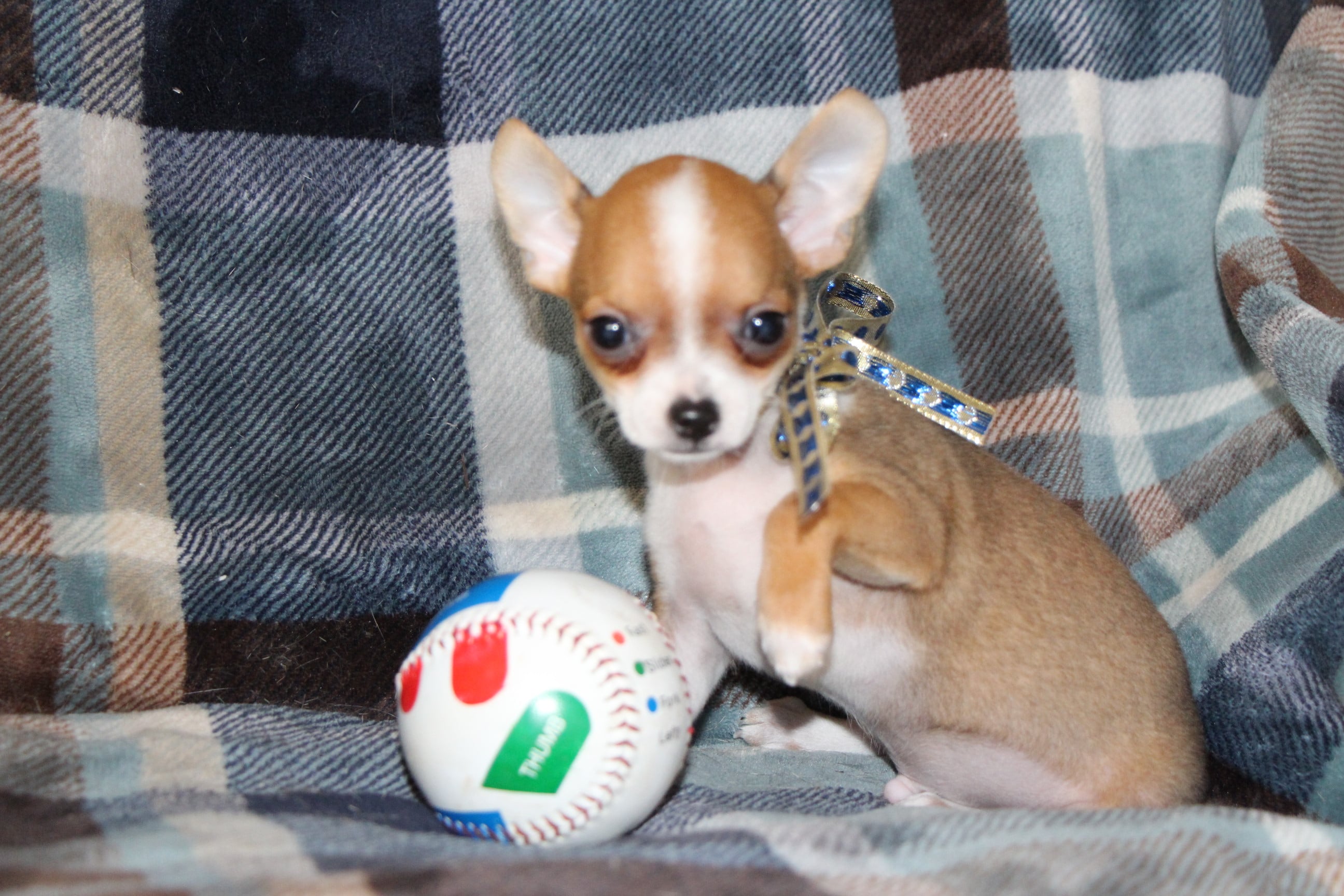 Tango: Gentle & loving boy…cutest face! Charting  3 3/4  lbs
SOLD
Tidbit:  1 1/4 lbs    My "mighty mite"   Charting 3 to 3 1/2 lbs 

SOLD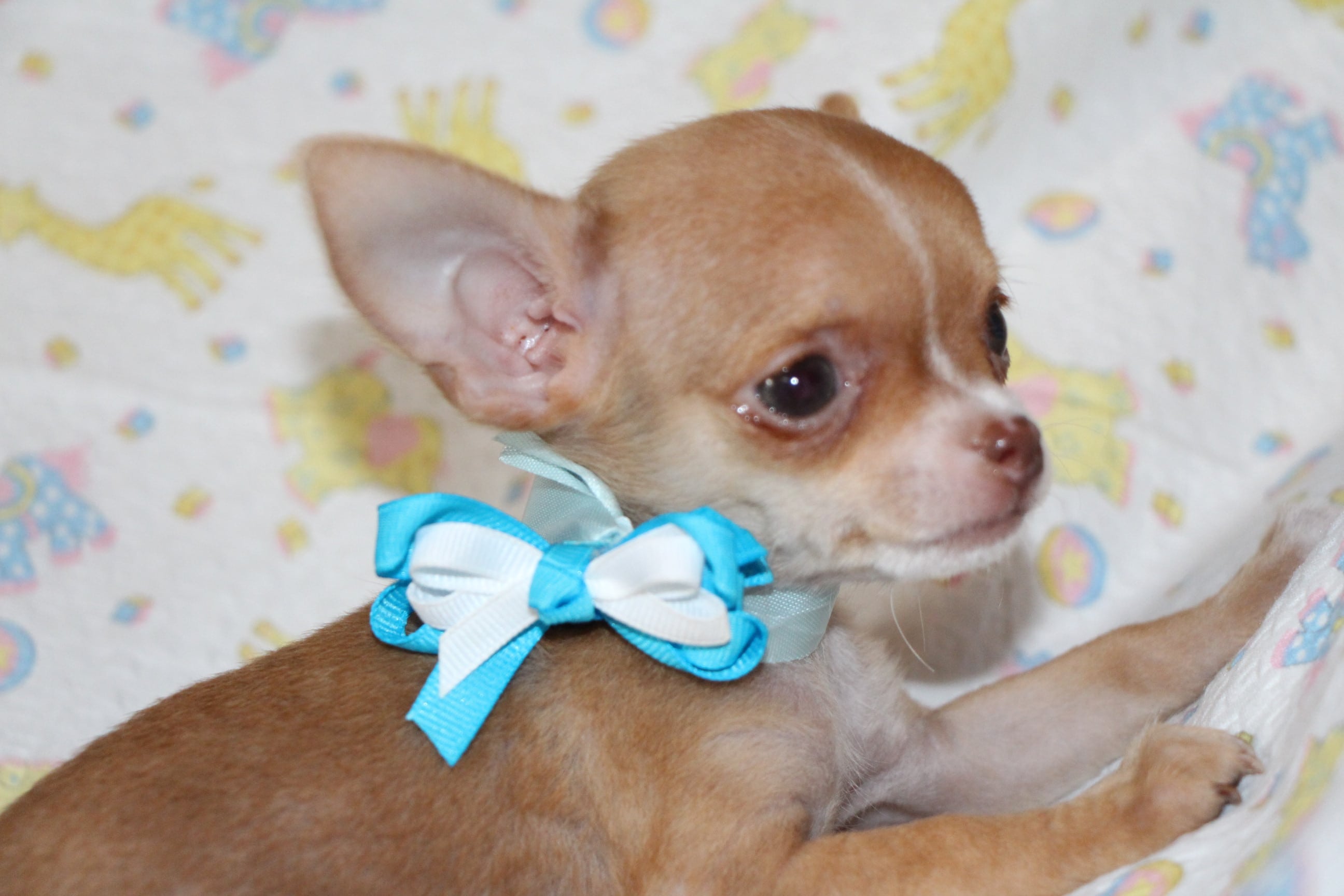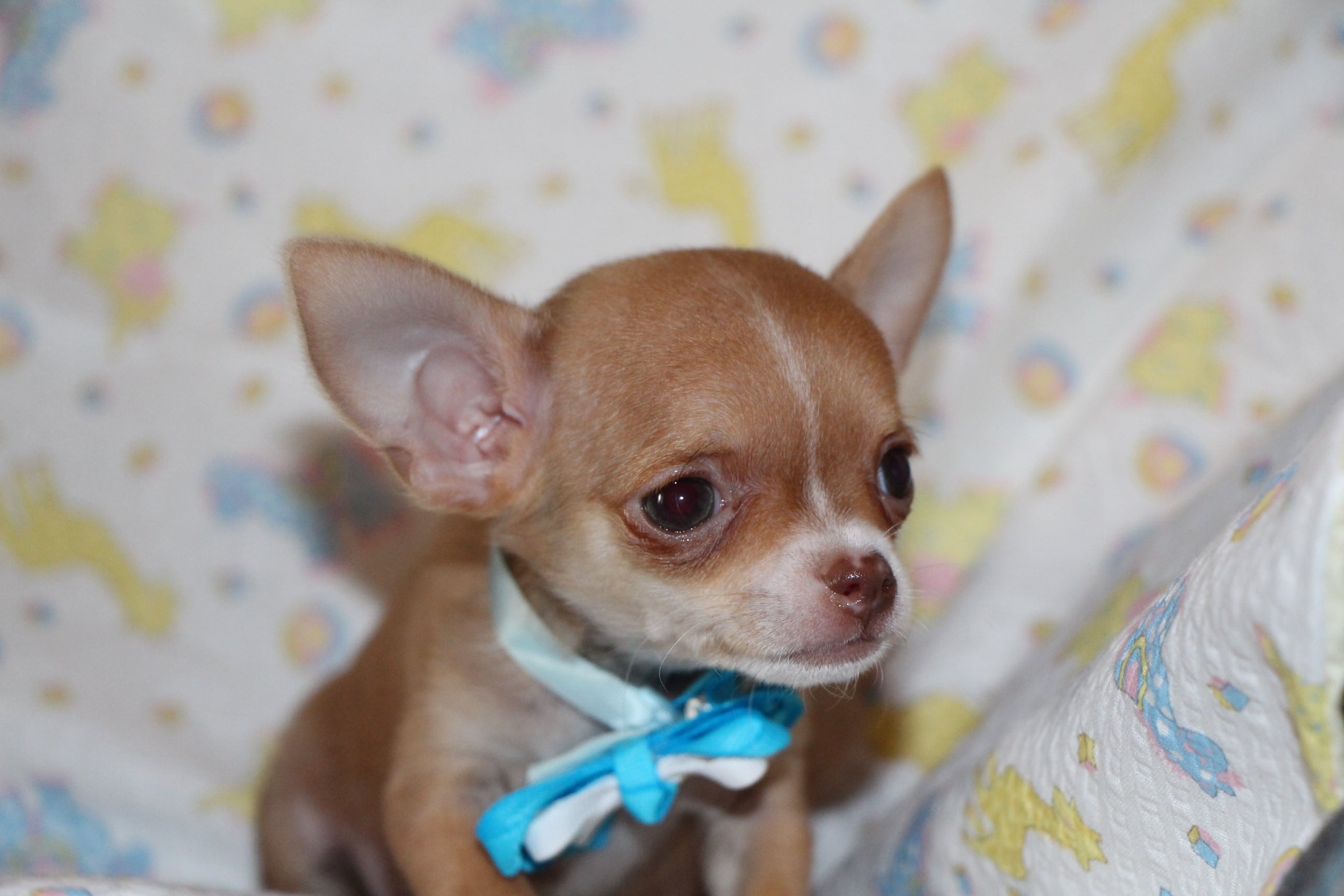 Tamara:  1 lb 10 oz  Loves her toys!  Charting 4 lbs  

Available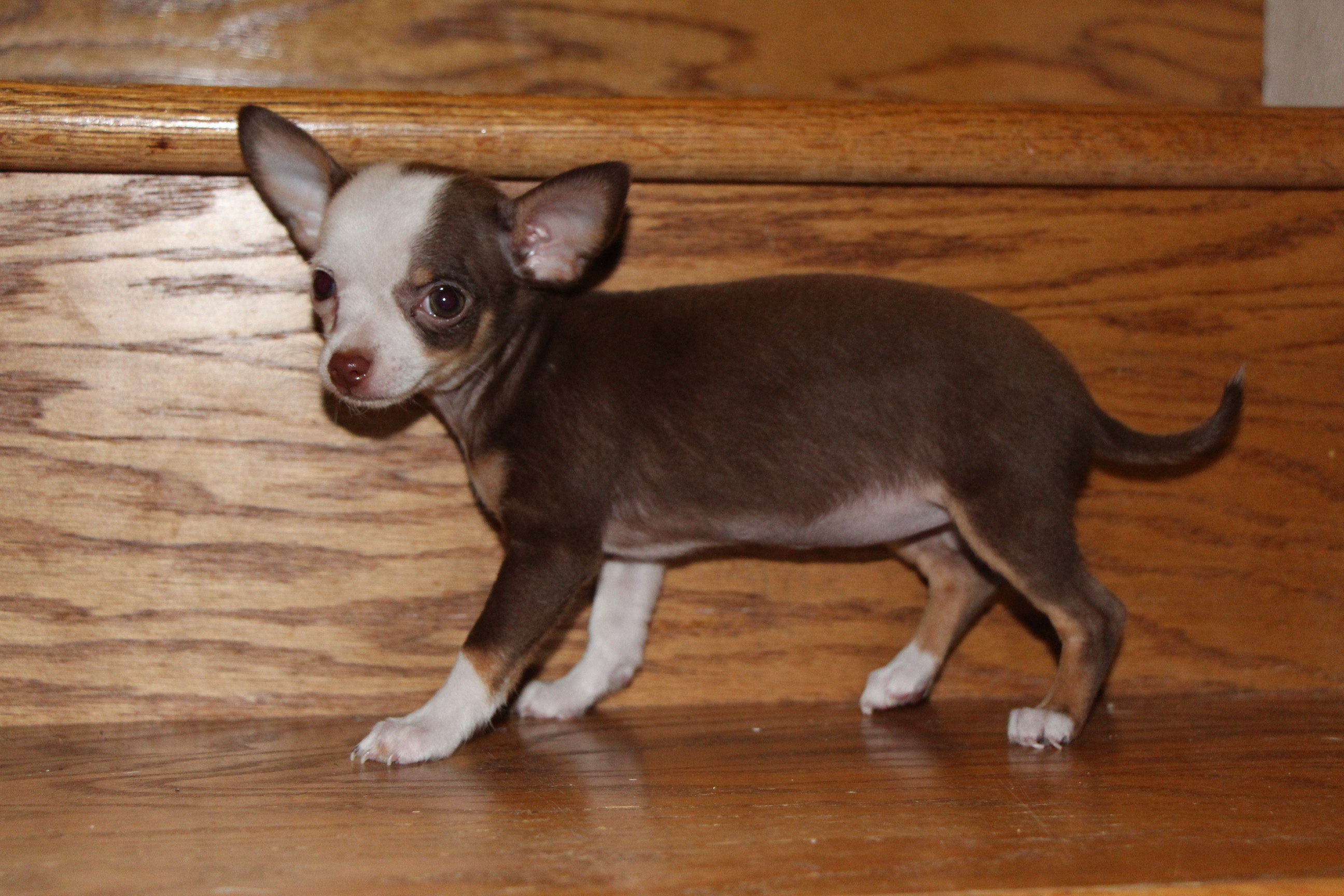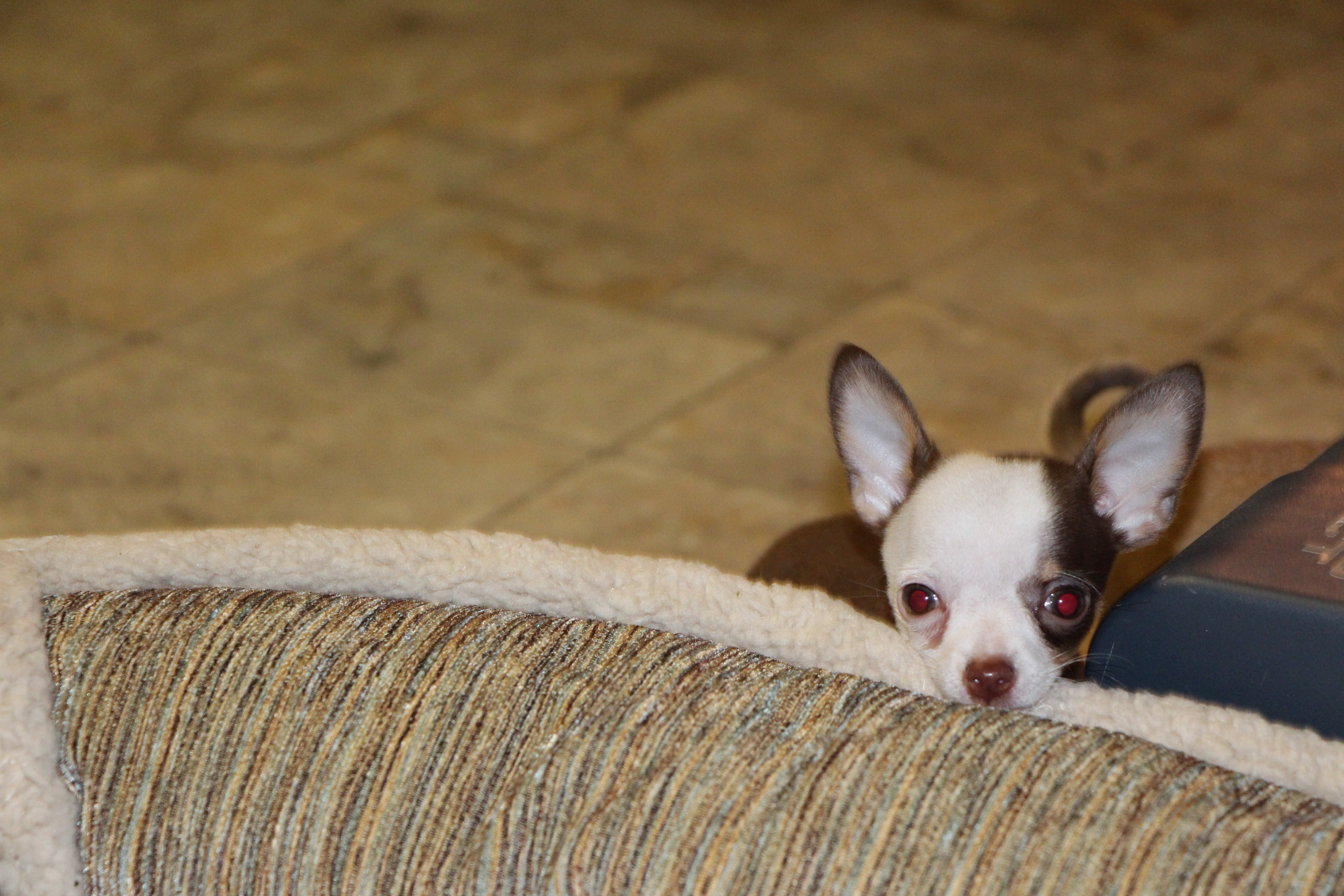 Tessa: pretty and bold…she will win your heart! 

SOLD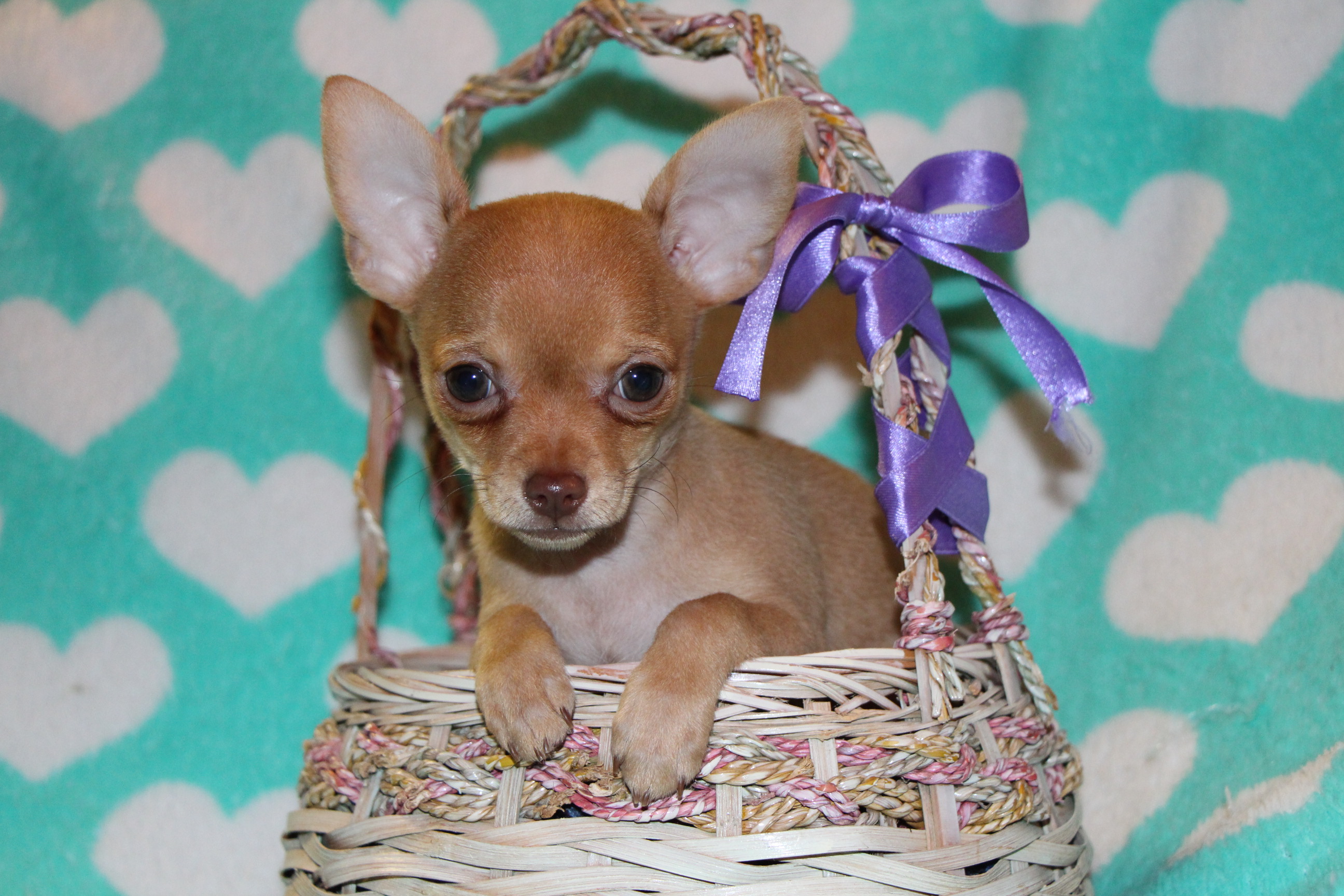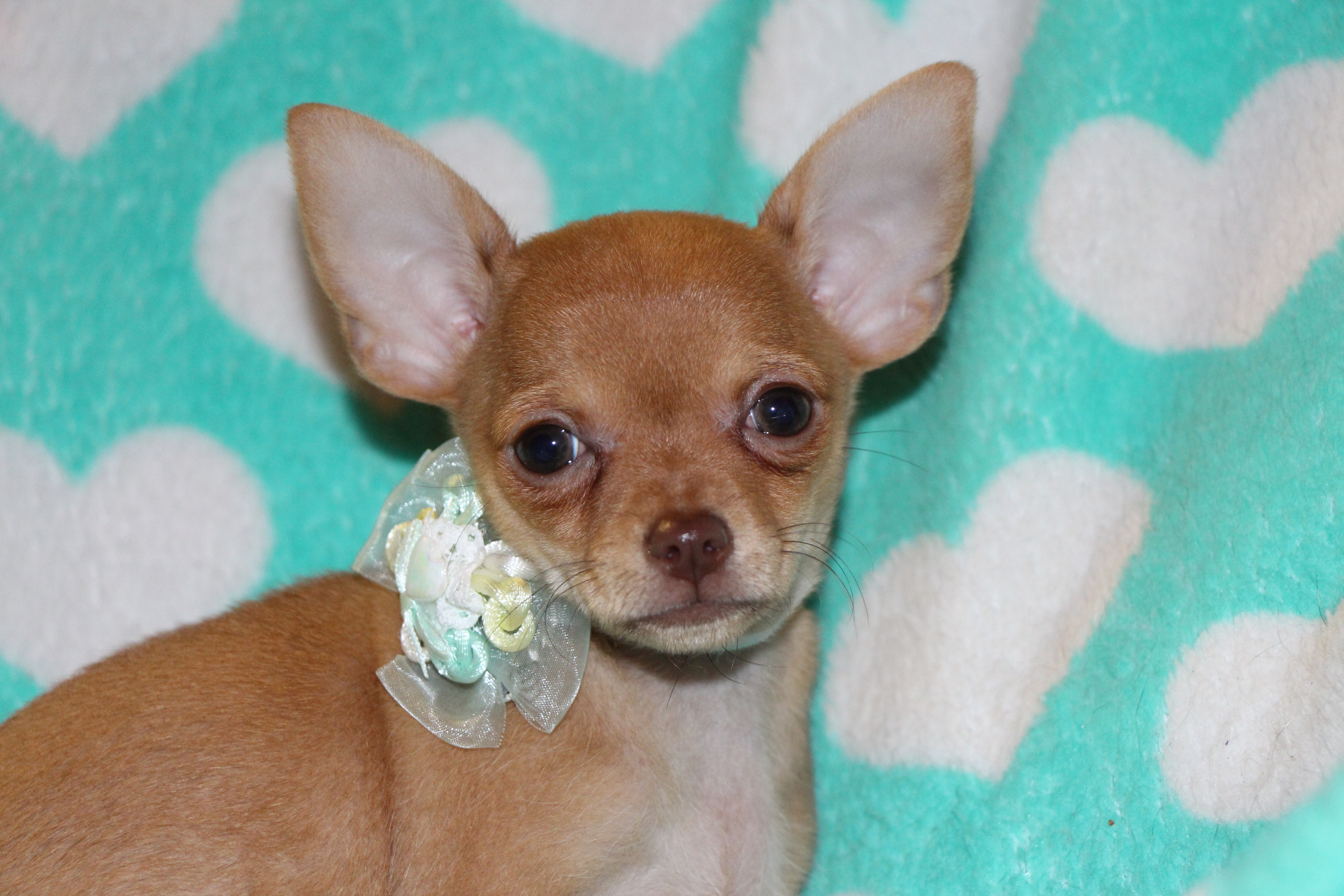 Some photos of  past puppies:
Jubilee- Stunning chocolate-blue (known as "lavender" in some breeds). This is a hard to find color, and is just beautiful! 
Jubilee is TAKEN, and with her new family.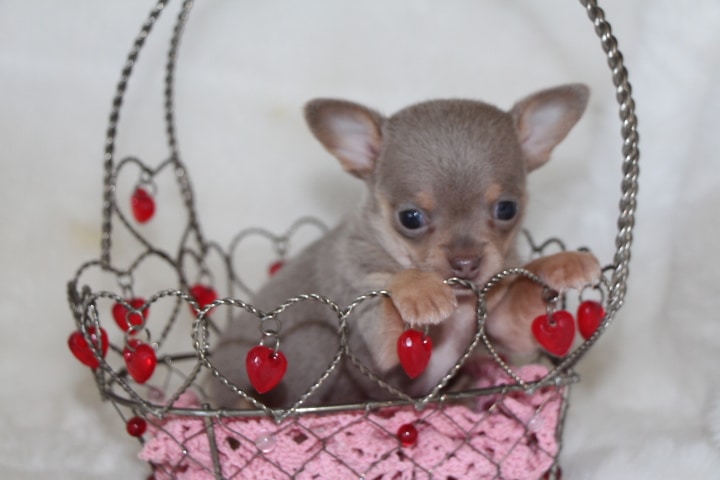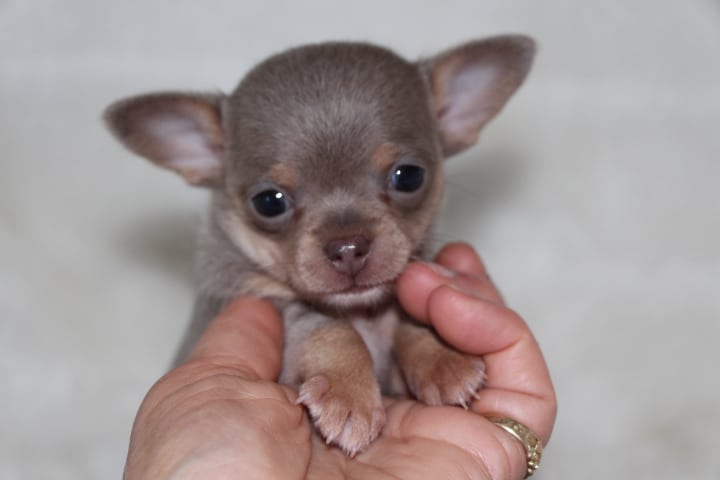 Trixie- darling dark chocolate/tan markings.  With her own family now!
 
Miranda- rare blue-brindle fawn….Stayed with us…we LOVE her!
TAFFY    

Baby photo about 5 weeks.  G

orgeous chocolate-sabled fawn.
  TAFFY — stayed with us! SOOO loving and "kissy"!
We have happy, social and LOVING dogs….everyone gets along in our family 🙂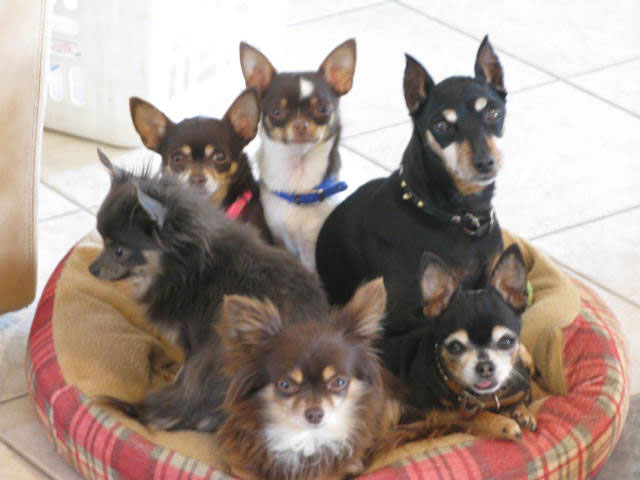 Page updated 12/6/17