To purchase the puppy you have chosen, a non-refundable deposit is required to hold your puppy. Only when I have received your deposit, do I consider this puppy sold! I have no way to leave a deposit on my website…I want to make personal contact with each person that is interested in one of my babies.

The quickest way to do leave a deposit is by Venmo or PayPal.  There will be a 3% transaction fee added to a PayPal payment, unless you use the Friends/Family method. I also accept deposit payment by personal check (there must be an adequate time for the check to clear before puppy is released), money order or cashier's check.

If sending money via mail (cashier's check or postal money order), I need to receive this no more than three days after we have confirmed your choice and you have decided to leave a deposit or make full payment. That way I can let others know that the puppy is spoken for. All deposit money is applied toward the purchase price of the puppy that you have chosen.

Complete payment (balance of puppy price plus shipping fee) is needed 5 days prior to a flight. There is a required 5.662 % retail tax for pet puppies sold in Missouri. Sorry about this, this is Uncle Sam at his best! In the case of hand deliveries, the puppy is paid for prior to it leaving here (unless my husband or I are meeting you personally). If you would like to purchase a puppy that is young and not yet ready to go, we will accept payments and can work out a plan with you.

Your deposit and subsequent payment for a puppy is your acceptance of our contract guarantee which can be found on the Our Guarantee page.

Our puppies come with a complete, written medical record and the Vet-recommended vaccinations and dewormings are kept current until they leave us. They are clean, nails trimmed, and our long haired babies have the hair trimmed away from eyes, potty areas and off the bottom of the feet.

We now include a FREE microchip implanted, for secure Identification in case your pet is lost or stolen.  You will get a card with information on how to transfer your puppy into your name.  Very important so that you can get your fur baby right back to you!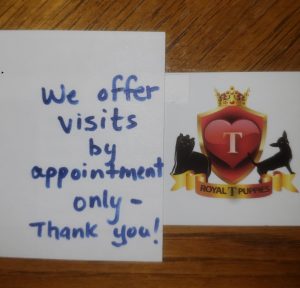 While visits are sometimes scheduled, please note that I do not allow visits with any puppies who have not had their first vaccination (and a week or more post-vaccination so that the baby has begun to develope immunity.) I take Bio-Security (and overall Security) very seriously, and I do this because the health and well-being of my animals are of utmost importance to me.