Due to personal circumstances, I am offering our French Bulldog adults to excellent homes. Please inquire.
RESERVED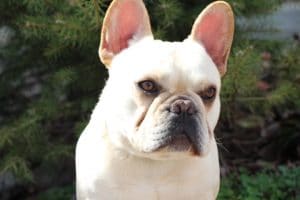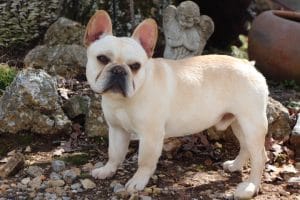 This is a compact, friendly & handsome boy!  Compact and cobby body.
Diamond- she is being spayed April 19.  Adoption fee $500. This is Magnolia's daughter and she is my favorite (after her Momma, of course).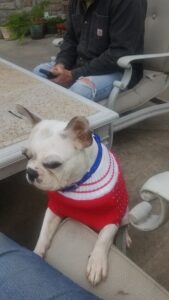 Tia has not been spayed. She has had three heat cycles. Offered as a pet for $1000 ( with spay contract) or $1500 full AKC registration. 
The French Bulldog was specifically bred & "downsized" to create the small, compact companion dog that it is today. As a "miniaturized" breed, there are certain anomalies that are common in the breed. It is considered a brachiocephalic and achondroplastic breed. As a brachiocephalic breed, it has shortened air passages, and often smaller areas for air to pass and circulate. This includes the nares, palate, and airway. This is why it is so important not to allow your Frenchie to over-exert and over-heat. They cannot cool down as most dogs can. As an achondroplastic breed, the limbs, spine and cartilage are affected to varying degrees. The short legs, wide head, characteristic "curvature" in the back and short tail are all associated with this type of dwarfism. Please be aware that hip, vertebrae, intervertebral discs and other cartilage can be affected in the Frenchie. It is part of the Frenchie breed. Maintaining a healthy weight (not letting your Frenchie become overweight), is important in keeping stress off vertebrae, legs and joints, and also heart and lungs.